By Jane Warburton July 7th, 2007 All Ringside Boxing
Click for larger image © Jane Warburton / Saddo Boxing
It was a great value, all-action fight night at the Robin Park Arena, in Wigan, England last night as Frank Maloney and Steve Wood co-promoted the two title fight night featuring Jason Booth versus Ian Napa for the vacant British Bantamweight title and Mark Thompson versus Vincent Vuma for the vacant WBC International Light Middle belt.
Fighting for the vacant British Bantamweight crown, Ian "Dappa" Napa of Hackney, London, took the fight with just two weeks notice, in place of Martin Power, who vacated the title.
"It's pay-back time," said Napa before the fight, having lost a British and Commonwealth Flyweight title fight to Jason Booth on points some six years ago.
Jason "2-smooth" Booth, wearing camouflage shorts, worked close inside during the opening round, only standing back from Napa (who works well up close) midway through the round.
Two good right hand punches from Napa in the last 30 seconds of round two knocked Booth off balance. It's a good evenly matched fight and both boxers want this title badly.
Another good right hand from Napa finds it's target in the first half of round four as Booth switches between southpaw and orthodox and continues to box in close,
which suits Napa.
Napa is the more relaxed of the two boxers but it's a close fight. Booths' corner is shouting with frustration at Jason as he misses opportunities.
Booth looks dejected as he sits in his corner at the end of round seven, he hasn't seemed comfortable in the fight throughout, although his workrate and effort has been plenty.
In the closing seconds of round eight, both men are landing shots now as they stand toe-to-toe.
Despite looking tired as they come out for the eleventh, it's another busy round and Booth throws a couple of good uppercuts, to which Napa responds and they are both slugging it out relentlessly.
By the time the twelfth round comes to a close, Ian Napa wins by unanimous decision, 117-113, 116-113 and 115-113, and is visibly delighted by the result.
Afterward, Napa said he'd worked hard on the body punches and he felt that's what had worked for him.
Promoter Frank Maloney has plans to stage a rematch between Napa and former title holder Martin Power this Autumn in London.
Click for larger image © Jane Warburton / Saddo Boxing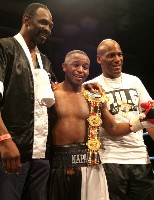 Click to read more boxing articles by Jane Warburton
Discuss in Boxing Forum
---