Click for larger image © Jim Everett / Saddo Boxing
Thursday night on a Star Boxing promotion at the Manhattan Center in New York City, heavyweight Vinny Maddalone improved his record to 28-4 (19) with a DQ win over Jason Barnett who drops to 9-6 (4).
Although it was a win for Maddalone, what was suppose to be a showcase fight turned out to be a long, bloody and frustrating night.
Barnett came out strong in the first two rounds, beating the slower Maddalone to the punch. The next few rounds were uneventful and difficult to score with the limited action and the amount of holding that was done by Barnett.
Maddalone continued to try to land one big punch to end the fight while it seemed Barnett was trying to further open a cut over Maddalone's left eye with rough house tactics.
Barnett would be deducted two points in the sixth round for a head butt and also for lacing, which made Maddalone's eye stream with blood. The seventh round found much of the same rough house tactics, which finally forced referee Eddie Cotton to disqualify Barnett at 1:48 of the round.
Click for larger image © Jim Everett / Saddo Boxing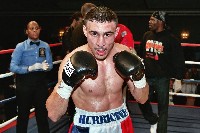 In his US fight debut, French lightweight Ali Oubaali defeated Panamanian southpaw Victorio Abadia in an all action bout.
Both fighters traded hard punches from the start of the fight. Oubaali was rocked in the second round and was clearly hurt by three consecutive right hooks when he was knocked down by Abadia but was able to get back to his feet and trade punches through the end of the round.
Former European super feather title challenger Oubaali turned the momentum of the fight to his favor in the third and fourth rounds, landing hard combinations which forced Abadia to the ropes on several occasions.
Although Abadia did not go down, he seemed to not have his legs under him at times throughout both rounds. Referee Sparkle Lee stepped in to stop the bout after Abadia took another combination on the ropes at 1:27 of the fourth round.
It appeared by the reaction of the crowd that they felt it was a quick stoppage, but watching the fight from ringside it did appear that Abadia was unstable at times and took too much punishment on the ropes.
Oubaali improved to 20-3 (17) while Abadia drops to 22-6-2 (8).
Click for larger image © Jim Everett / Saddo Boxing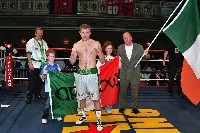 New York based Irishman James Moore extended his unbeaten streak to 13-0 (9), defeating Chad Greenleaf, 10-8-1 (4), in a lackluster six round light middleweight bout.
Although Moore dominated the fight, it didn't seem as if he ever had Greenleaf hurt and took several unnecessary shots during the bout.
Click for larger image © Jim Everett / Saddo Boxing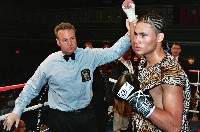 In another light middleweight bout, amateur stand-out Ronny Vargas scored a second round TKO over Paul Scianna. In his third fight in only seven weeks, Vargas had Scianna down at the end of the first and twice in the second round before the Referee James Santa called it off at :51 of the second. Vargas improves to 3-0 (2) while Scianna drops to 3-2 (2).
Click for larger image © Jim Everett / Saddo Boxing
Additional undercard bouts:
Woman super bantam Norika Kariya, 7-2 (1), of Toronto, decisioned Dawn Reynolds, 3-3 (0), of Las Vegas over four rounds.
Super feather Jose Guzman, 1-2 (0), of The Bronx posted a four round majority decision over Staten Island's Nicky DeMarco, 2-1 (2).
Light middle Troy Artis, 0-0-1 (0), drew with Rondu Campbell, 1-0-1 (0), over four rounds.