By Jane Warburton February 15th, 2008 All Boxing Interviews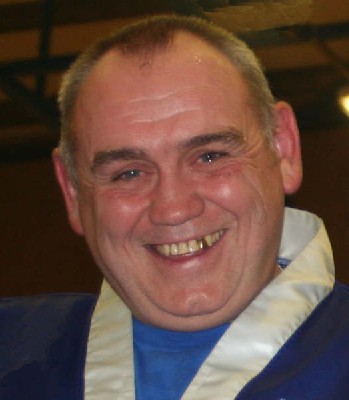 © Jane Warburton / Saddo Boxing
Bobby Rimmer confirmed this evening that everything has gone great for his two young boxers fighting this Saturday night. Brian Rose and Jack Arnfield are boxing on the Steve Woods (VIP Promotions) fight night billed as 'Power at the Tower'. A full venue is expected at the famous Blackpool Tower, in England's beloved seaside resort city.
"Jack's had a change of opponent," Bobby began. "He was supposed to fight Martin Marshall, but is now facing David Kirk. The opponent was changed on Saturday, but you know Jack - he just gets on with it!"
Kirk, a southpaw fighting out of Nottinghamshire, is an iron-chinned, 33 year old light middleweight journeyman who has fought Arnfield's stable-mate Brian Rose in May of 2007 along with a long list of the top fighters in Britain since turning pro in 1996.
"Brian Rose is also fighting a southpaw, Manocha Solari," said Rimmer. "He was originally going to be fighting Eamonn Goodbrand. Solari is a tough fighter - he knocked out Martin Concepcion a couple of years back. I think Brian will be too slick for him, though. His training has gone brilliant - as it always does with Brian".
Iranian light middle Solari lost to former British Champion Ryan Rhodes in December by TKO.
"There's going to be a great atmosphere in there on Saturday night," said Rimmer. "And as there'll be a lot of support from the home-crowd - I'm just hoping they [Rose and Arnfield] don't get too carried away with the occasion!".
Click to read more boxing articles by Jane Warburton
Discuss in Boxing Forum
---