By Boxing Press March 28th, 2008 All Press Releases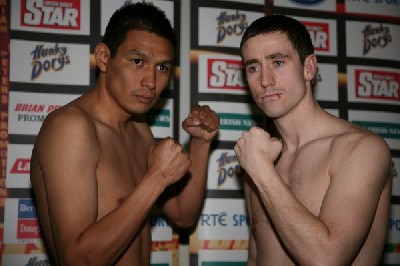 © Aidan Walsh
Paul McCloskey and Cesar Bazan both weighed in at the first time of asking ahead of tomorrow nights Hunky Dorys Fight Night at the Letterkenny Leisure Centre. The full weigh in details are below.
Live coverage of the Hunky Dorys Fight Night begins on RTÉ TWO at 9pm on Saturday. Coverage is also available online on www.rte.ie
BBC 1 Northern Ireland will show delayed coverage of the bout at 10:20pm on Sunday night.
Doors open at the Letterkenny Leisure Complex at 6pm on Saturday. The first bout is at 6.30pm with McCloskey expected in the ring at 9.30pm.
The full line up and weights is:
- Paul McCloskey (141.5 lbs) V Cesar Bazan (141.25 lbs) - Light Welterweight (10 Rounds)
- Neil Sinclair (150.5 lbs) V Juan Martinez Bas (151.25 lbs) - Welterweight (8 Rounds)
- Andrew Murray (139.25 lbs) V Juris Ivanovs (140.25 lbs) Light Welterweight (8 Rounds)
- Ciaran Healy (158.25 lbs) V Pavel Lotah (158.25 lbs) - Light Middleweight (8 Rounds)
- Damian Taggart (149 lbs) V Janis Chernouskis (149 lbs) - Light Middleweight (4 Rounds)
- Luke Wilton (120 lbs) V István Ajtai (120.25 lbs) - Super Bantamweight (4 Rounds)
Click to read more boxing articles by Boxing Press
Discuss in Boxing Forum
---
Boxing News Tags: Cesar Bazan, Paul McCloskey