**With Slideshow**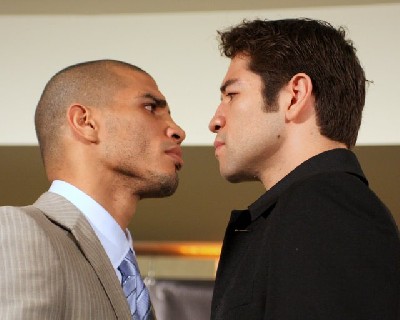 © Jim Everett / Saddo Boxing
Yesterday at Sofrito Puerto Rican Cuisine in New York City, Top Rank hosted the final press conference for their World Welterweight Championship Double Header which will take place this Saturday, April 12 at Boardwalk Hall in Atlantic City, NJ .
"Two World Championships…One Night" features WBA Welterweight Champion, Miguel Cotto, 31-0 (25), against Contender star, Alfonso Gomez, 18-3-2 (8). The co-feature will be the highly anticipated rematch featuring IBF Welterweight Champion, Kermit Cintron, 29-1 (27), who will look to avenge his only loss against former Welterweight Champion, Antonio Margarito, 35-5 (25).
The first time Cintron and Margarito met in the ring in April 2005, their roles were reversed; Margarito was the WBO Welterweight Champion and Cintron was the challenger. Margarito had literally broke down Cintron over five rounds, cutting him over the right eye in the third round and dropping him twice both in the fourth and fifth rounds before the fight was stopped.
Cintron looked like he may not recover from the devastating loss, but rebuilt his career with the help of trainer Emanuel Steward, winning all five fights since his loss to Margarito by KO and picking up the IBF strap in the process.
Margarito went on to defend his WBO title successfully two more times before losing a unanimous decision to Paul Williams in July 2007, later returning to the ring in November 2007 to KO Golden Johnson at 2:28 of the first round.
"I want to thank Kermit Cintron for the opportunity," said Margarito through an interpreter. "I have prepared very well for this fight and had an excellent training camp; I hope that Kermit has done the same thing because we both know that this is a tough fight. I'm ready to walk in the ring on Saturday to be a world champion."
"I have done the hard work," replied Cintron. "I'm in great shape; I had a perfect training camp. There is not much to say, I'm going to let it all out on Saturday and I will do my talking in the ring."
The main event also has its own rivalry, not from a previous encounter but from the anticipation of a Puerto Rican fighter facing a Mexican fighter.
"From the poor neighborhoods in Guadalajara, to the center of the universe in New York, who could have imagined it," said Alfonso Gomez. "I imagined it when I was ten years old and I put on gloves for the first time. I would see Julio Cesar Chavez win and I imagined myself standing in front of the media, ready to fight for a world title."
Gomez did not appear bothered to be the underdog against his Puerto Rican opponent, "On April 12, I'm going to prove to everybody that my imagination and the power of my mind to be here is going to be demonstrated when I beat Miguel Cotto."
"I trained hard for this fight, physically, mentally and spiritually; there is no boxing critic, there is no boxing fan and there are no statistics that can change my mind on the outcome of April 12 because I trained hard for this fight," said Gomez.
"We are going to give the fans a tremendous fight and I'm going to be in there hitting him as hard as I can. I'm going to hit him with my jabs as much as I can, with uppercuts to the body, I'm going to bob and weave as many punches as I can. I want him to come back to his corner and think of all the things that he did and shouldn't have done during training camp."
Gomez clenched his fist in the air as he finished addressing the media, "On April 12 Mexico will have a new champion. I will come out with a belt and I will win. Viva Mexico , Viva Mexico ."
The undefeated WBA Welterweight Champion Miguel Cotto did not seem at all phased by the confidence of his challenger Alfonso Gomez.
"I'm not here to talk too much," said Cotto. "I remember something my father said to me and my brothers; when you want to do something you don't have to tell everybody what you are going to do, you just do it and that's it. That's the thing I'm going to do on Saturday, I'm going to fight, I'm going to win on next Saturday and I'm going to show the people."