By Boxing Press April 18th, 2008 All Press Releases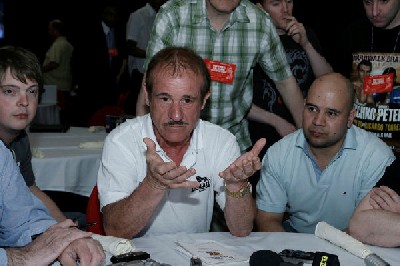 © Tom Hogan/Golden Boy Promotions
Joe Calzaghe's trainer, Enzo Calzaghe:
"I can tell you right now, Bernard Hopkins will look for a disqualification rather than lose to Joe. If Hopkins' is such a legend, he needs to prove it. He needs to fight like a man not foul like a coward."
"A DQ is the only chance Hopkins has to stop Joe. I'm convinced that Hopkins is coming in to spoil it not win it because he can't win it and he knows it. Just look at his last three fights. It's head first and punch after."
"Joe will win the fight. It doesn't matter if it's in the first round or the final round. I just want it to be a good fight, but it takes two to make that happen."
"We are here for only one reason. Joe wanted to be here and he wanted to fight Hopkins. We make more money fighting in the UK and Joe attracts many more fans there. But this was the only way Joe could get Hopkins in the ring and we weren't going to let him slip off the hook again."
"There is no burden on Joe to change his style for this fight. Joe's style is what makes him unique and unbeatable. Why change what works so well? I have a lot of respect for Hopkins' dream team of trainers, but they can't go into the ring with him on fight night. With all his expertise in his training camp, Hopkins has no excuse for fighting a dirty fight."
"Bernard Hopkins is not the best fighter Joe has fought. Kessler is younger, faster and stronger than Hopkins. Bernard Hopkins is going to ride off into the sunset on April 19 and Joe Calzaghe is going to be the one who slaps the horse's arse."
Hopkins' Trainers: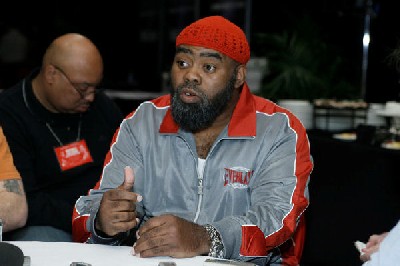 © Tom Hogan/Golden Boy Promotions
Nazim Richardson:
"Bernard's a better fighter when he's an underdog. It really works for Bernard. When he's told he can't do something is when he's at his best."
"Some people want to be stars and say whatever they have to do to be stars. Because of Joe's record I have to respect him. But not when it comes down to mechanics."
"Bernard can study you while he's boxing you. He can see a shot and he might wait until the 7th or 8th round to take it. You can't teach that."
"Knowing Bernard for so many years and knowing where he came from, the hunger he has is not a surprise."
"Bottom line is you're not fighting activity, he's (Bernard) fighting accuracy."
"I'm really not impressed with Joe's fundamentals. I'm impressed with what he's done with the lack there of."
"Every time I've seen Calzaghe in a fight, he looks across the ring and he's supposed to win. You're looking at the puzzle that is Calzaghe, but you're forgetting the puzzle that is Hopkins."
"When you look at Calzaghe's opponents, you have to look at who they beat to really see how good they are."
"Bernard's experience will be too much for Calzaghe."
"You have to trust the judges while you're in there. Every man would be more comfortable putting the other man on the center of the canvas. But during the fight you just need to put in work."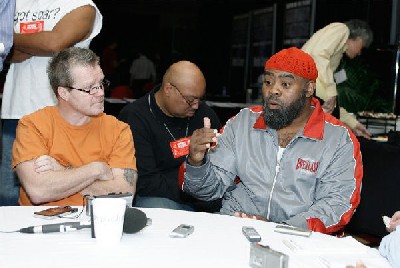 © Tom Hogan/Golden Boy Promotions
Freddie Roach:
"Calzaghe's style is a little bit different. It's not hard to figure out. He fights the same fight every time, but he's very effective with it."
"Bernard's always in shape. But he's in much better shape in this fight. It's only 5 pounds more, but he's much stronger with this fight."
"Bernard knows more about boxing than all of us. He's the world champ and he's been in there forever."
"There are certain adjustments that you have to make when you fight a righty or a southpaw, and Joe doesn't make those changes."
"I don't think he's fought anyone like Hopkins. Jeff Lacy is not as smart as Bernard. Bernard's smart, he's a smart guy…I believe Bernard will control the fight."
"He (Bernard) walks me into punches sometimes while we're training. And I know it's not malicious or because I'm a white guy."
"Bernard's like Joe Louis. He's a text book fighter. His hands are up, his feet are set. He's a very smart fighter."
"I hope the British people boo us. I like that we're an underdog."
"Losing to a guy like Bernard Hopkins is not a disgrace. And at the same time losing to a guy like Joe Calzaghe is not a disgrace. "
"Odds-wise I'd make it even money if I was the odds maker…I've only bet on a couple of fighters in my career, but I'm going to bet on this fight.
Hopkins vs. Calzaghe "Battle of the Planet," is presented by Golden Boy Promotions, Frank Warren's Sports Network and the Planet Hollywood Resort & Casino, and sponsored by Rockstar Energy Drink and Affliction Clothing. The 12-round light heavyweight championship fight between The Ring magazine champions for Hopkins' title, will air live from the Planet Hollywood Ring at the Thomas & Mack Center in Las Vegas on HBO's World Championship Boxing, beginning at 9:45 p.m. ET / 6:45 p.m. PT.
Click to read more boxing articles by Boxing Press
Discuss in Boxing Forum
---
Boxing News Tags: Battle of the Planet, Bernard Hopkins, Enzo Calzaghe, Frank Warren, Freddie Roach, Golden Boy Promotions, HBO Boxing, Joe Calzaghe, Joe Calzaghe Vs Bernard Hopkins, Nazim Richardson