© Tom Casino / Showtime Boxing
ShoBox: The New Generation returns to the United Kingdom on May 10, 2008, with an outstanding world title showdown and a promising undercard bout featuring two undefeated prospects.
On a special Saturday night edition of the popular, prospect-oriented Showtime boxing series, WBC Super Lightweight Champion Junior Witter will defend his crown for the third time when he takes on WBC No. 1 contender Timothy Bradley at the Trent FM Arena in Nottingham, England on same day tape delay at 10:45 p.m. ET/PT on Showtime.
In the co-feature, hard-hitting super middleweight Carl Froch will be facing late-replacement Albert Rybacki of Poland, 15-0 (8). Froch was added to the card, scheduled for Saturday, May 10, after lightweight contender John Fewkes, complaining of Gastroenteritis, pulled out of his ShoBox co-feature fight with John Murray. The evening of boxing will be promoted by Hennessy Sports.
The fighters weighed-in as follows:
Junior Witter: 139.5 lb
Timothy Bradley: 139.25 lb
Carl Froch: 167.5 lb
Albert Rybacki: 168.25
Junior Witter: "Timothy Bradley has had some success already. He's a young, talented fighter. He's done quite well for himself, but on Saturday night he's going to understand what it feels like to be in the ring with a world champion.
"I've seen Bradley box. He's aggressive and active. He's got quick hands. We have a plan in place that will take him out of his comfort zones. Lets be honest; the champion will remain the champion. I'm going out there to deliver some pain."
Timothy Bradley: "I can't wait for the bell to ring. I'm very anxious for my first title fight. People ask me if I'm nervous. It's a world title fight; I'm itching to get inside the ring. It's like when you run around in fresh, cut grass. You get that itch.
"During the face off, I didn't like the way he was looking at me. Saturday, on Showtime, I'll unleash all of my energy on Junior Witter. I'm going to fight a smart fight. We have an elaborate game plan in place. I'm a versatile fighter so we've prepared for a lot of things. I'll know how and when to attack Witter."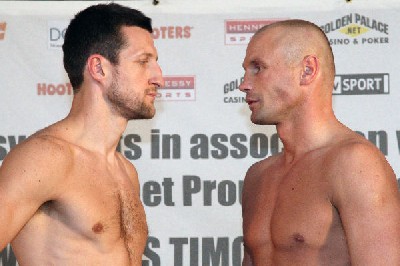 © Tom Casino / Showtime Boxing