By Jane Warburton May 23rd, 2008 All Boxing Articles
**With Slideshow**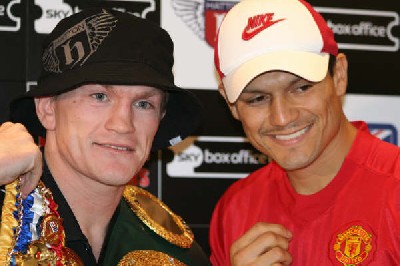 © Jane Warburton / Saddo Boxing
Yesterday the City of Manchester Stadium, England, played host to the official press conference ahead of Saturday's 'Homecoming' fight night.
Entering the stadium, I stopped by to see how the 'pitch' was progressing in preparation for the fight and with just two days to go, the huge structure and canopy that will protect the ring looks near completion. There are more red seats now on the floor area and not a blade of grass is visible under the protective boarding. It is indeed a fantastic sight!
Once inside the boardroom suite, media representatives gathered to await the arrival of boxers, trainers and promoters. On the top table sat Lovemore N'dou, Robert Diaz (Golden Boy), Matthew Hatton, Billy Graham, Ray Hatton, Frank Maloney, Ricky Hatton, Richard Schaeffer (Golden Boy), Juan Lazcano, Ronnie Shields, Paulie Malignaggi, Lou DiBella, Craig Watson and Joe Pennington.
Promoter Frank Maloney began by welcoming everyone to the press conference and formal introductions were made by all those on the top table.
Ricky Hatton began by commenting on the success of Manchester United (he being a huge Manchester City fan of course!) Regarding May weather - "I've put that fight to bed now. I've put it to the back of my mind and coming back from that - should make me a better fighter. I think I'm a fighter - in my heart. What sort of a champion would I be if I threw the towel in after my first loss?"
Ronnie Shields is asked about the comments he made to the press about Ricky's lifestyle.
Shields replied, "Why did I say that? Well, because Ricky is a human being. He's a person that gains a lot of weight, loses a lot of weight - and you can't abuse the body like that."
Here are a few a few additional quotes along with a few questions from the boxing press:
Juan Lazcano: "This year is my year. This year my birthday falls on Easter - the resurrection. The resurrection is in my life, my career, the opportunities - it goes hand in hand. I had to believe in myself. I realised that I have to believe it, I have to think it, when I think it and believe it - it'll happen. I'm like fine wine - I get better as I mature (laughing….I know how you Europeans like fine wine)."
Boxing Press: Are you going to win?
Juan Lazcano: "Absolutely I'm going to win!"
Ricky Hatton: "55,000 support is great when you're in the corner but also a bit of pressure. There would be easier ways of 'coming back' after a loss rather than in front of 55,000. Don't forget, I lost my undefeated record but I didn't lose my world title."
Paulie Malignaggi: "I think I'm the best fighter on this podium right now... I'm very confident in myself, but that's for another day, I'm concentrating on Lovemore N'Dou right now.
"I can say I've proved it… but Ricky's proven it… Juan's proven it…. Lovemore's proven it…we've all fought top guys, so you can't go on pedigree really because we're all on a high pedigree but at the end of the day it's my inner confidence - my belief that I'm the best.
"You're going to see a lot of me - you'll see plenty of me and then you have to make your own opinion for yourselves. But I'm the best fighter up here."
Ricky Hatton: (Laughing) "I think the way I lost my last fight - I'd be a fool to start looking ahead when you've got to think about your next fight. You know every fighter's done that - Paulie's done that - come back after a defeat and become a better fighter and I've got to do the same really.
"Names get thrown at you all the time - future fights - and in some ways the fights on the horizon are what spurs you on but you'd be foolish to look past your next fight. It's all about getting back to winning ways with me - get back down to my normal weight."
Boxing Press: Will this definitely be 'it' for big fights you're going to hold in the UK?
Ricky Hatton: "Could be. I've just signed a deal with HBO and Golden Boy so I think the idea would be to go to America again, I'm sure that's what HBO and Golden Boy would like me to do, but there's nothing set in 'concrete' so there is a chance this could be my last fight in Britain but you'll just have to watch this space really.
"Manchester… 55,000 fans - speechless - it never ceases to amaze me - the support I get from these fans. You know 35,000 went over to Las Vegas to watch me fight Mayweather and I don't think that could ever be bettered watching a British Fighter - it's incredible, I come back and there's 55,000 coming to this fight, I can't thank them enough - the best way I can thank them is to do a proper job on Saturday night."
Frank Maloney: "It's a great promotion to be involved with - 55,000 people, this is the biggest promoted fight staged in Britain. Lennox Lewis when he won the undisputed Heavyweight Championship of the World and came back - we were lucky to sell 6,000 tickets. This guy's (Hatton) coming back after a loss and sells 55,000 tickets, so there is no comparison. I've always said there's the Heavyweight Business and the Boxing Business - now I've discovered there's the 'Ricky Hatton Business'.
"It's proved that 'if we have the right weather' fighters like Ricky wouldn't need to go to America because if we can draw 55,000 we can stage mega-fights here in Britain Nothing beats a live audience. I think a big audience - rather than fighting in a casino with a limited audience - I do think that live audience is the 'thing' about boxing. If you go back in history - great fights attracted great crowds."
Richard Schaeffer: "I do believe that down the road for Ricky Hatton there's an opportunity to break an all-time record. Back in the 1930's - 40's a fight that was outdoor - one was in Los Angeles and had 110,000 people. I do believe that Ricky Hatton has the style, charisma, and everything about him - he can break these kind of records and Saturday night is the first step towards that and he knows there's a lot riding on that."
Click to read more boxing articles by Jane Warburton
Discuss in Boxing Forum
---
Boxing News Tags: Billy Graham, Craig Watson, Golden Boy Promotions, Hatton vs Lazcano, Joe Pennington, Juan Lazcano, Lou DiBella, Lovemore N'dou, Matthew Hatton, Paulie Malignaggi, Paulie Malignaggi Vs Lovemore N'dou, Press Conference, Ray Hatton, Ricky Hatton, The Homecoming, Versus Network