By Boxing Press August 17th, 2008 All Press Releases
Click for larger image © Michael Pimentel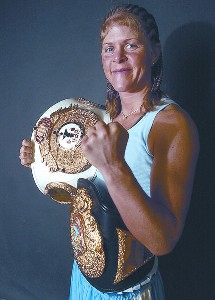 WIBA President Ryan Wissow and Jarvis Robinson, CEO of Fight Night Productions, announced today that three time World Champion - IFBA/GBU Featherweight and IBA Super Bantamweight - Kelsey 'Road Warrior' Jeffries
will be one of the opponents competing for the vacant WIBA Super Bantamweight title at the 'Casino Battle Royale' event which will take place in Atlantic City later this year.
The clearly pleased Jarvis Robinson said "It's so good to have a top class fighter like Kelsey on the show. Boy, can that girl fight. I was watching some video of her and I'm seriously impressed. She's the style of fighter I like. All action from start to finish."
Jeffries, an on call Fire Fighter for the Hollister, California Fire Department and full time student at Gavilan Jr. College, Bakersfield, grew up in Hawaii and took up kickboxing, which was popular on the island state, at an early age. Switching her pugilistic allegiance to boxing a few years later, she built up a stellar 9-2 amateur career.
After returning to her native California, Jeffries turned professional in July 1999 and has since built up an enviable 27-0-1 record, with most bouts against opponents significantly larger than her natural 120-122 pounds.
She is trained by former two-time world champion, James 'Buddy' McGirt, who said of her "She is one of the hardest working fighters that I ever trained and she's the best out there at her weight"
Jeffries opponent is expected to be announced within the next week or two.
Click to read more boxing articles by Boxing Press
Discuss in Boxing Forum
---