By Jane Warburton September 20th, 2008 All Ringside Boxing
**With Slideshow**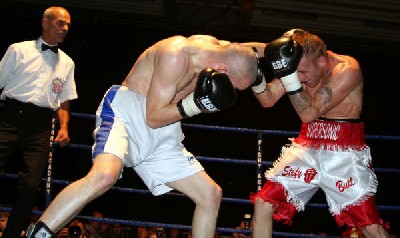 © Jane Warburton / Saddo Boxing
Last night at the Doncaster Dome in Doncaster, England, Denis Hobson of Fight Academy hosted a night of boxing billed as "Demolition at the Dome2 - headlined by Graeme "Dezzie" Higginson's second defence of the British Masters Light Welterweight title against Stefy Bull. The event included a meal and was well-attended.
Supersonic Bull entered the ring first, with English Super Feather titlist Femi Fehintola holding one of Bull's two belts aloft. Dezzie Higginson approached the ring to big support from the crowds despite the fact he was from Blackburn and Bull was the homeboy!
A hard-fought contest with Bull getting off to a good start with long-reaching left and right shots. It gets a bit messy as both men do some holding-on and Referee Mickey Vann calls time to get the two fighters to clean it up.
A close-run contest in the early rounds but Bull looked to tire towards the end and Higginson piles on the pressure with Bull against the ropes. Higginson lands some solid body-punches which must sap the energy of the local man.
Higginson retains his title with a 97-95 points win and his record improves to 7-6-1 (3).
Popular Jamie McDonnell of Doncaster had a tough start to his fight against Anthony Hanna of Birmingham. Experienced Hanna landed with some good long-reaching straight lefts but despite a good round four for the Birmingham man, he was floored in round five by a swinging left shot.
Hanna was up from the count but seriously wobbly and Referee Michael Alexander called a halt to the contest. McDonnell wins by TKO round five. His record now stands at 9-2-1 (3).
Jawad 'Joe' Elfidh surprised onlookers by putting tough workhorse Peter Buckley of Birmingham on the canvas during their six round light welterweight contest. This was Buckley's 295th contest and he is not used to being horizontal on the canvas! A nicely progressing Elfidh notches up his fourth win on points.
Gavin Smith won on points over a disappointed Alexander Spitko. "Pit Bull" Spitko - originally from Latvia, now residing in Mansfield - put up a good fight against Bradford's Smith and seemed surprised not to be given the decision. Smith wins on points and improves to 7-1-2 (2).
Ryan Rowlinson made short work of Jason Smith when he scored a first round knockdown against the Barnsley man. The Rotherham boxer improves to 3-7-2 (1).
Sheffield's Jon Ibbo Ibbotson gained a points win over last minute opponent, Yorkshire man Paul Bonson, in their four round light heavyweight contest. This gives Ibbo a record of 11-1-1 (4).
Click to read more boxing articles by Jane Warburton
Discuss in Boxing Forum
---
Boxing News Tags: Alexandrs Spitko, Anthony Hanna, Demolition at the Dome, Gavin Smith, Graeme Higginson, Jamie McDonnell, Jason Smith, Joe Elfish, John Smith, Jon Ibbotson, Paul Owen, Peter Buckley, Ryan Rowlinson, Stefy Bull