By Jane Warburton October 3rd, 2008 All Boxing Articles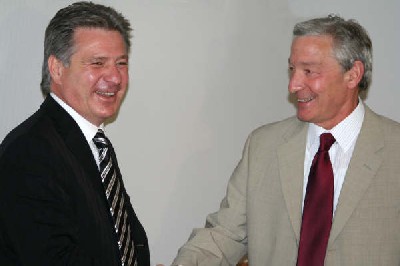 © Jane Warburton / Saddo Boxing
Wednesday at the smart Novotel City South Hotel, near London Bridge in England's capital, media were assembled to a press reception that officially announced Robert Smith as the new General Secretary of the British Boxing Board of Control.
Currently acting as the assistant General Secretary - Mr. Smith takes over from Simon Block on Monday, October 20.
The press 'reception' was headed by Simon Block, the Current General Secretary of the BBBof C, Charles "Charlie" Giles, BBBofC's Chairman and Robert Smith. Mr. Smith already has a strong boxing background and he was himself a professional boxer with a record of 21 contests - 16 wins and 5 losses during the 1980's.
Questioning from the press wasn't as 'general' as I assumed it would be. There were specific questions regarding for instance the view of the board on boxers who then go on to become promoters. The 'Board' generalised, ie no reference was made to any person in particular, that 'former boxers don't always make the best promoters'. Big names to endorse fight nights don't always produce the best fight nights. And if they were not naturally great promoters - it would only be a matter of time before this became evident.
The 'board' were asked to comment on their view of 'belts' and whether they believed they were as important now. Block commented that - for instance - in the clash between Joe Calzaghe and Roy Jones, 'the belt is irrelevant'. Giles said, however, "I feel belts are very important".
A member of the press suggested that the public deemed some belts as being 'worthless' and they were created 'for television'. Smith said that the trouble is that 'promoters pay the sanction fee'. A fight doesn't always need a 'title', it won't always effect attendance and coverage - there are some great fights anyway. But the assumption was that they (promoters) needed to have a title to draw attention.
Regarding the structure of the 'Board' and specifically - 'names of roles' - Block said that they were keeping the name 'General Secretary' rather than re-naming it 'Chief Executive' as a media representative suggested. Media also mentioned that the title 'Stewards' was a bit old-fashioned but this too is to be kept although they are of course 'Directors' now as the Board is a limited company.
The number of Stewards has dropped from 32 to 16. When asked how the 'Board' is doing financially - Giles said "we're doing alright!". Some money had been paid out for Valery Odin who had a 'bleed on the brain' in 2006. Press were told that boxers take annual MRI scans and have done so since 1997 following a donation by Frank Warren. On checking MRI scan results - the 'Board' will refuse licences if they deem it is not in the boxers interest to continue fighting.
Mr. Smith will not be replaced immediately though there will be some part-time help. The BBBofC Headquarters will remain in Cardiff, Wales but there will be some meetings taking place in London.
Regarding the matter of 'womens boxing' - Mr. Smith said "I'll continue to administer women's boxing as best as I can. It is not a major part of our sport but it will always play a part".
Members of the press asked about 'belts' in women's boxing to which Giles replied "When we get a competitive division - then we'll have a title". But - as he says - if you only have two women fighting each other in the same division, it hardly seems fair to give a title.
There are eight licenced women boxers in the UK, but Giles said "I think it will get better".
Referees were the subject of some interest by media. "We encourage referees to 'find a winner' " (rather than a draw), said Mr. Giles. Regarding referee 'mistakes' Mr. Giles continued by saying that all referees are assessed and if what is considered a 'mistake' happens - the referee in question is shown a video of the incident and asked to 'explain' his actions. "It happens - but we don't 'sing' about it", Giles concurred.
Finally, Mr. Block and Mr. Smith shook hands for the waiting photographers. Mr. Smith clearly happy and looking forward to his appointment.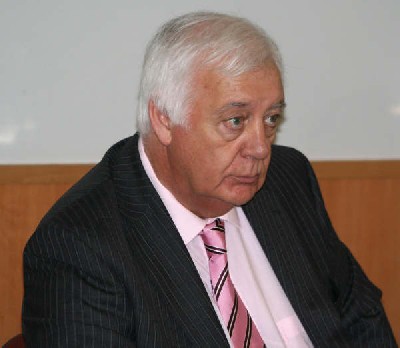 Click to read more boxing articles by Jane Warburton
Discuss in Boxing Forum
---
Boxing News Tags: BBBofC, British Boxing Board Of Control, Charles Giles, Robert Smith, Simon Block