**With Slideshow**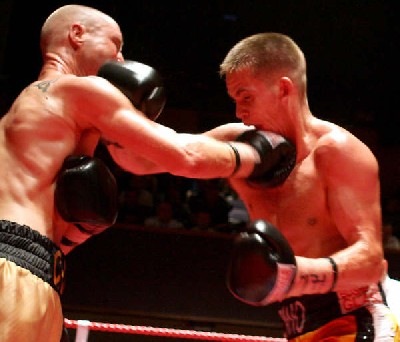 © Jane Warburton / Saddo Boxing
First Team's PJ Rowson and Errol Johnson put on another entertaining afternoon of boxing on Sunday when they hosted a full card of eight contests, billed as "Crunch-time at Lunch-time", which included two title bouts at the Civic Hall in Wolverhampton, England.
Dean "Deano" Harrison of Wolverhampton faced Chris Long of Calne, Wiltshire, for the vacant British Masters Welterweight title. A win could ensure a re-match with Scott Haywood, the Derby Boxer who narrowly out pointed Harrison for the English Light Welterweight title in September. Long fought Harrison's stablemate Steve Saville last time out, losing on points to the Bomber.
Harrison used straight lefts to head and left hooks to the body of Long and although Long put up a good effort against the Wolverhampton man, he was forced to retire at the end of the eighth round with a shoulder injury.
Harrison wins the title and his record now stands at 13-1 (4).
Steve "Bomber" Saville of Walsall faced tough Coventry boxer Baz Carey for the vacant Midlands Area Lightweight title. Saville and Carey met in June this year when Saville made his return to pro-boxing after a six year break. It was a real slug-fest between the Bomber and the Bulldog with the Wolverhampton man securing a points win.
Saville always provides an exciting and entertaining fight and Sunday was no exception. Wearing his trademark Wolverhampton Wanderers shorts, tattooed Saville enjoyed huge support from the crowd.
The fight was indeed a war between these two. Saville - although keeping his gloves up high, did not go unscathed. Carey got through with some straight rights and it wasn't long before Saville sustained a cut above the left brow, where he picked up two cuts last time out.
Undeterred, Saville went at Carey scoring with the left. A crowd tussle caused a brief halt in proceedings, but the fight quickly resumed and Saville lands a solid left to the face of Carey in round seven.
Carey gets up for the count - but looking dazed from the blow - was stopped by referee Shaun Messer and the crowd erupts with cheers. A great fight - from two great sluggers and a well deserved win for Saville - the new Midlands Lightweight Area Champion, who improves to 19-4 (8).
Other results included:
Welterweights Chris Lewis outpointed Bheki Mayo after six rounds, while middleweight Jamie "Bully" Ball outpointed Tye Williams after four rounds of action.
Light middles Martin Gordon and Matt Seawright went to grips for four frames with Seawright taking the points verdict. Featherweight Chris Male posted a four round decision over veteran Anthony Hanna.
Light welterweight debutant Richard Ghent turned in a four round decision over Kristian Laight and middleweight Keiron Gray bested Matt Scriven on points, also in a four rounder.