**With Slideshow**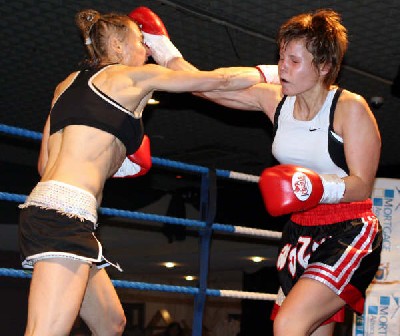 © Jane Warburton / Saddo Boxing
There was a good crowd at the Heritage Hotel in Derby, England on Sunday as Clifton Mitchell hosted an afternoon of boxing billed as '50/50'.
Originally an all-ladies boxing event - the usual difficulties in getting 'match-ups' in the UK meant that there would now be three female boxing contests and three male, hence, the 50/50 till.
Ringside supporters included Jonny Nelson, Scott Haywood and Lyndsey Scragg. Scragg has been sparring with the Derby ladies and is recently back from fighting in Canada.
First up was Cardiff's Lana Cooper as she faced local lady Sue Helmsley making her debut in pro boxing at super featherweight.
It was a good first fight for Helmsley, who landed some big straight left punches to the head of Cooper.
Cooper threw straight lefts but they weren't as accurate as the debutant and when both ladies threw a punch at the same time - it was Helmsley's who connected first. Helmsley wins on points 40-37.
Matthew 'Left Hook' Hainy of Duffield, Derbyshire, faced Anthony Young of Crawley in a six round super middleweight contest.
It was a good close fight between these two with plenty of action throughout. As the bell ends round four, Hainy lands a big uppercut and Young seems to think it's a four-rounder as he raises his hand aloft!
Another two rounds of relentless punching action and Hainy gets the points win 58-56 improving to 4-0.
Next up is Canadian-born Sara 'The Law' Davis of Derby who faced Russian-born Angel 'The Artist' McKenzie of London in a 6 x 2 light middleweight contest.
McKenzie enters the ring and begins to dance around the canvas to the sounds of 'I Kissed A Girl'. Obviously enjoying herself - McKenzie kept the crowd entertained while waiting for Davis.
For me, not a great fight to watch. McKenzie punched as though her gloves weighed a ton! Davis - whose last fight was twelve months ago and whose three previously scheduled opponents were withdrawn - didn't look comfortable.
McKenzie sustained a cut on her left brow during round four and a further nick under the right eye in round five. Undeterred, she 'shimmies' back over to her corner!
Muscular Davis's strength and determination prevailed and she gets the points win 59-56
Afterwards, McKenzie picks up the 'mic' to 'address the crowds - thanking them for attending!
Davis improves to 3-0.
Another good 'scrap' came between local-man Usman Ahmed and David Keogan of Birkenhead.
Keogan sustains a graze to the bridge of his nose during round two and Ahmed keeps busy with the left and right hooks. A close contest between these two sees Ahmed win on points 59-57. His record now stands at 3-1-1.
Birmingham boxer Jason Nesbitt was up against Dave 'Rocky' Ryan of Derby in a four round light welterweight contest.
There was little work coming from Nesbitt in the first round with tattooed Ryan keeping up the pace with his jab. A better round three for Nesbitt but Ryan dominated the fight to get a 40-36 points win. He improves to 7 wins against just 1 loss, which was to Scott Woolford.
Last to fight was crowd favourite Juliette 'Stormy' Winter of Derby who faced Hungarian ZSofia Bedo in a 6 x 2 flyweight contest.
Winter's experience was obvious but she had a frustrating time against the Hungarian and her corner could be heard shouting - 'Stop playing with her, Juliette!' 'Mean it!'
Perhaps 'waiting' a bit too much - Winter allowed Bedo the space to work, but 'Stormy' kept focussed and still managed the unanimous points decision 60-54 which sees her record improve to 4-6-1 (3).
Promoter Clifton Mitchell told SaddoBoxing yesterday that despite the difficulties in setting up female contests - they were looking to get a title fight for Juliette Winter.