By Boxing Press March 11th, 2009 All Press Releases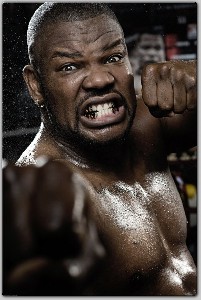 11 days before facing WBC heavyweight champion Vitali Klitschko in Stuttgart, "The Black Panther", Juan Carlos Gomez, is very confident regarding his chances for the fight.
"I have never been this well prepared and this fired up for a fight", states Gomez. "Vitali will be surprised to see what I am capable of. He thinks he can beat me up? I say it will be the other way around. I will destroy the legend of Vitali Klitschko."
Asked why he will be victorious although all odds are against him at the moment, Gomez replies: "I am a natural born boxer. I have been in the ring since I was eight years old. I have been world cruiserweight champion for four years.
"I am more experienced than Vitali though I am younger and faster than him. And I know exactly what to do in the ring. I will be too fast and too much to handle for the robot. Of course, I know that he can punch – but he will not even see me and you cannot hit what you cannot see."
"The Black Panther" is proud to step into the ring and fight for the gold in less than two weeks. "This is the chance I have been waiting for", adds Gomez. "Nobody expected me to make it to a world championship fight again but now I am here and I will not blow this chance.
"My greatest dream is to present the world heavyweight championship belt to my father in Havana. I can only imagine what will be going on in Cuba when I make it and become the first ever Cuban world heavyweight champion. I will be a national hero – and maybe they will even elect me president when Fidel is gone."
Gomez and his team will hit Stuttgart this Sunday. "The hard work of preparation is done. From now on I will enjoy every minute. This is the first time in my long career that I am actually looking forward to a fight. It's showtime! And in the end we will all here the ring announcer say: the winner and new heavyweight champion of the world 'The Black Panther' Juan Carlos Gomez!"
Click to read more boxing articles by Boxing Press
Discuss in Boxing Forum
---
Boxing News Tags: Juan Carlos Gomez, Vitali Klitschko, Vitali Klitschko Vs Juan Carlos Gomez