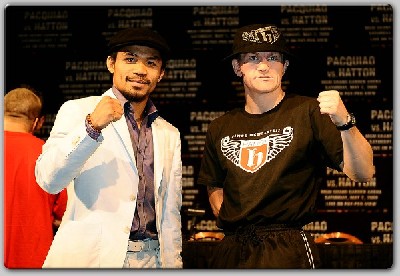 © Hoganphotos / Golden Boy Promotions
Manny Pacquiao:
"I am ready for the fight on Saturday. I know Ricky Hatton has trained hard for this fight. I have seen it on 24/7.
"I respect Ricky Hatton. He is a good person. He is a nice guy and I would like to remind everyone that there is nothing personal for this fight and we are just doing our job to give a good fight to the people and make them happy.
"Specifically to the Filipino people who are looking for a victory on Saturday, I will do my best to bring honor to our country.
"I would like to especially like to thank my wife Jinkee and my mom, who is here for the first time watching one of my fights live. My last fight was impressive, I won money."
Ricky Hatton:
"I think you have all made your mind up already. I have been reading what you have been saying and what everyone has been saying. That doesn't scare me. I have been here before. I have been the underdog before.
"I hear what you say. 'He is an over-hyped, over-protected, fat beer drinking Englishman. Guess what...that 'he' is going to shock the world again.
"It doesn't scare me being in this position. This is my weight division, but I understand that I am the underdog. I understand why people are picking on me, especially since Manny Pacquiao is the number one pound for pound fighter in the world who just had an exceptional win over Oscar.
"They call this the Battle of East and West. And our worlds will collide in the ring on Saturday night."
Freddie Roach, Pacquiao's Trainer:
"I've got the best fighter. Manny is in the greatest shape of his life. I've been telling Manny all along that I will be disappointed if the fight goes longer than three rounds."
Bob Arum, Chairman of Top Rank Inc.
"You're going to find that our camp is a little more restrained. Just remember, Freddie Roach, Manny's trainer, is training the future president of the Philippines.
"Roach is the best trainer in the sport of boxing, more than just that, there has to be a great bond between a trainer and fighter and that is not something that comes into effect with one training period. It is built up over the years as they go into battle together time after time after time.
"People wonder why this fight is becoming the success that it is. I think there is one reason that has made this the event that it is and that is that people have learned about Manny Pacquiao.
"The Philippines has the best social welfare system in the world and it is called Manny Pacquiao."
Oscar De La Hoya, President of Golden Boy Promotions:
"Ricky Hatton against Manny Pacquiao; I know for a fact this fight is going to exceed all expectations.
"I have talked to people all over the country and the fact is that people want to watch this fight not because of the fighters' abilities, not because they can fight and have come to give fans an exciting fight, but because of respect. People respect what Pacquiao and Hatton can do in the ring.
"That's why people are going to watch this fight, because they respect both of these fighters and they know they are going to see a great great match.
"We are very proud to be a part of such a mega event that is not just big in the Philippines, not just big in Manchester, but big all around the world."
Pacquiao vs. Hatton "The Battle of East and West," presented by Rockstar Energy Drink and promoted by Top Rank and Golden Boy Promotions, in association with MP Promotions and Hatton Promotions, is a 12-round bout for Hatton's IBO Junior Welterweight title. The fight is also sponsored by Cerveza Tecate and Southwest Airlines.
Mandalay Bay, The Mirage, TI, Monte Carlo, Circus Circus, Luxor and New York-New York will host closed circuit viewing and tickets are available for purchase and are priced at $50, not including handling fees.
All seats are general admission and are now on sale at each individual property's box office outlets or by phone with a major credit card at (866) 799-7711. Ticket sales are limited to eight (8) per person.
The Pacquiao vs. Hatton pay-per-view telecast, beginning at 9 p.m. ET / 6 p.m. PT, has a suggested retail price of $49.95, will be produced and distributed by HBO Pay-Per-View and will be available to more than 71 million pay-per-view homes.
The telecast will be available in HD-TV for those viewers who can receive HD. HBO Pay-Per-View is the leading supplier of event programming to the pay-per-view industry. For Pacquiao vs. Hatton fight week updates, log on to www.hbo.com .
HBO Sports' all-access reality series "Pacquiao/Hatton 24/7" will premiere episode #4 in HD on Friday, May 1 at 9:30 p.m. ET/PT. Episodes #1, 2 & 3 will be replayed consecutively prior to the finale, starting at 8:00 p.m. ET/PT on HBO on Friday night. The first three episodes are also available on HBO On Demand.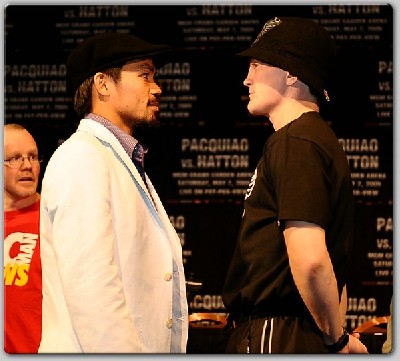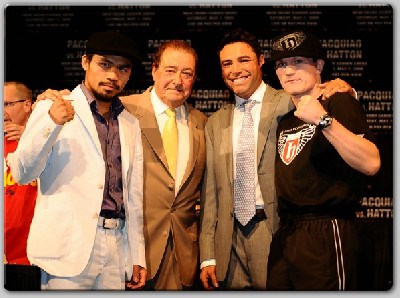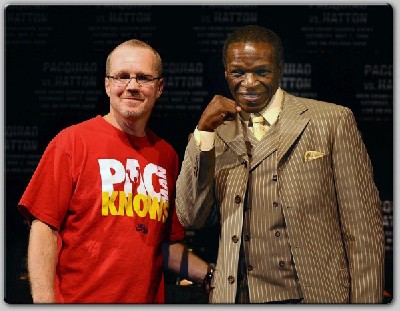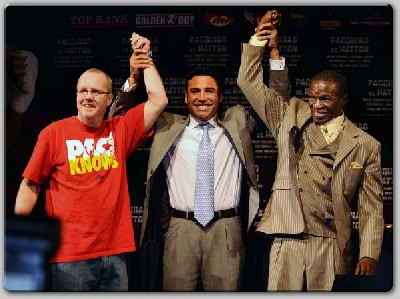 © Hoganphotos / Golden Boy Promotions