By Boxing Press June 1st, 2009 All Press Releases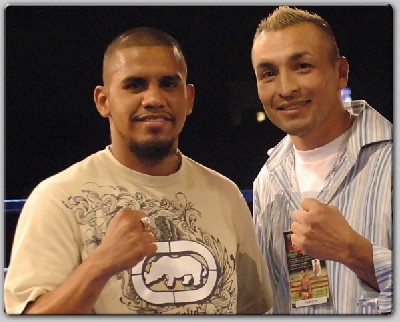 © Emily Harney
Lightweight contender Rolando Reyes made his first Houston visit a memorable one as he spent part of Thursday night assuring former world champion Juan Diaz that he is "more than ready" to return for a summer showdown.
Reyes was taking in the TKO Boxing Promotions event this past Thursday night at the Arena Theatre when Diaz and he were called into the squared circle by ring announcer Thomas Treiber.
Said Reyes, "I told him that I heard he's looking for someone to fight and I'm that guy. I respect what he's accomplished but I feel that I'm ready for him. If he wants we can fight here in Houston where he lives."
Reyes is coming of an outstanding fifth round stoppage of former world champion Julio Diaz on April 4th in Austin, Texas, a bout broadcast on HBO Pay-Per-View.
The knockout of Julio Diaz advanced Reyes' winning streak to five, including a stoppage of former world champion Stevie Johnston on October 10, 2007.
With a record of 31-4-2 with 20 KO's, the 30 year old Oxnard , California resident is currently world ranked #7 by the IBF, #12 by the WBC and #9 by ESPN.
Said Chet Koerner, President of TKO Boxing Promotions, "Rolando's stoppage of Julio Diaz showed that he is ready and willing to become a major player in the deep lightweight division. Juan is a terrific boxer with great accomplishments but we feel the time is right for Rolando."
Click to read more boxing articles by Boxing Press
Discuss in Boxing Forum
---
Boxing News Tags: Juan Diaz, Rolando Reyes, TKO Boxing Promotions