By Boxing Press June 3rd, 2009 All Press Releases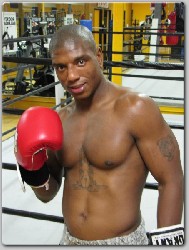 At the Grand Casino, Hinkley, Minnesota, "Triple OG" Otis Griffin, former NABO champion, looks to get back on the right track with a victory over the previously unbeaten Marcus Oliveria.
Griffin is coming off a bad decision against Jeff Lacy after dominating the fight only to be robbed at the hands of the judges.
Now Griffin who has been training once again up at altitude at the Talon boxing gym, run by managers John Tandy and Keith Allen, and is in tremendous condition.
Trainer Tandy has worked hard on improving Griffin's power and hand speed, both of which due to the hard work and perseverance of Griffin have increased 10 fold.
Oliveria is taking a step up in class as Griffin has far more experience at a higher level and knowing that a win here would take Griffin back into the rankings drives him one even more.
"I am going to take Oliveria out into deep water and drown him" Griffin was quoted in saying in the build up to the fight.
Also featuring on the card Phil Williams takes on tough veteran Antwon Echols, and unbeaten middleweight prospect Caleb Truax gets a tough test against Durrell Richardson. It is an action packed card in which all fights could go either way.
For Tickets contact Tony Grygelko on 612 282 4869 or they will be available on the door, this is not an event to be missed.
Click to read more boxing articles by Boxing Press
Discuss in Boxing Forum
---
Boxing News Tags: Jeff Lacy, Marcus Oliveria, Otis Griffin