By Ginamarie Russo June 10th, 2009 All Boxing Articles
Standing at 5 foot 11, a hairline away from 6 feet, Yakub Shidaev is a 20 year old junior welterweight who's amateur career was split between two countries.
Shidaev's nationality is Chechen but he was born and grew up in Kyrgyzstan. Chechens were considered terrorists in the USSR because they tried to break away from Russia. It was a very uneasy place to be as war broke out in 1993.
Shidaev and his family moved to America in 2000 and when he was 12 years old, he started to box. "I had a fight in sixth grade," Shidaev says. The other kid was bothering him and so they began wrestling, "I held him, I didn't hit him. I had to learn to protect myself."
He met with trainer Coach Stan Ward in 2001. Frequently returning to Kyrgyzstan, Shidaev fought in the nationals, both America and his native country, becoming a two time national champion in Kyrgyzstan. He made his pro-debut on Febrary 14, 2009, knocking out his opponent in just the first round.
Prior to lacing up his gloves, this energetic pugilist used to get into physical fights. "Since I started boxing, I have never got into a fight." Boxing is not just an interest for Shidaev, it's a way of life and has taught him self discipline and self control.
He is very determined when it comes to this sport and conceptualize what could solve some adversities of boxing. "Professional boxing in America is much more developed. Amateurs have gone down and lost popularity in America because so much of the money is in the pros." Could be a reason this young stallion is studying economics in college.
He is currently training at Gio's Brooklyn Boxing Club in California to prepare for his fight on June 12th versus Ignacio Garcia at the Doubletree Hotel in Ontario, CA.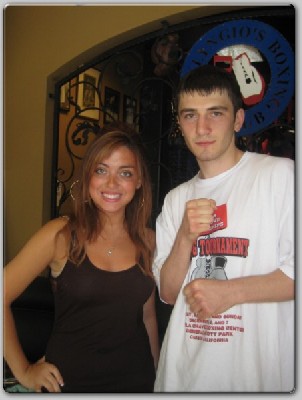 © Ginamarie Russo / Saddo Boxing
Click to read more boxing articles by Ginamarie Russo
Discuss in Boxing Forum
---
Boxing News Tags: Yakub Shidaev