By Richard Eberline May 19th, 2013 All Boxing Results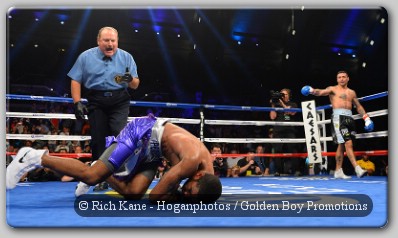 The light welterweight division was shaken up last night as Lucas Martin Matthysse destroyed Lamont Peterson in short order at Atlantic City's famed Boardwalk hall.
Neither Matthysse's WBC Interim crown or Peterson's WBA belt were on the line but that failed to make an impression on the fighters, who went at it full bore from the opening bell.
The first frame saw Matthysse pressing hard, lunging in with lefts, rights and body jabs, which mostly missed, sometimes wildly. Peterson kept on the move, maintaining distance with his jab. In the closing seconds, the Washington DC native slowed down for just a second and was caught with sharp right at the bell. More...