By Jane Warburton March 10th, 2013 All Ringside Boxing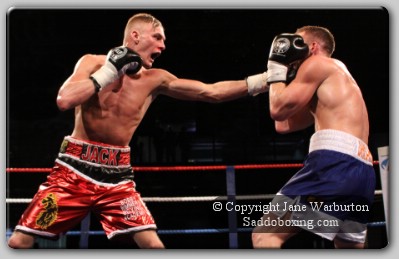 Click the above Image for more Photos from this Event
Steve Wood / VIP Promotions hosted a great night of boxing last night at DeVere Whites Hotel, Reebok Stadium, Bolton.
Billed as 'Road to Glory' - the headlining bout in particular was a fight 'not to be missed'. Jack Arnfield of Blackpool faced Gary Boulden of Shepperton for the vacant British Masters Light-Middleweight Title.
Jack Arnfield (Blackpool) v Gary Boulden (Shepperton)
10 x 3 British Masters Light-Middleweight Title
Popular Arnfield had loads of support for this – his fifteenth pro contest, but this will surely be remembered as his most notable.
A steady first round as both men settled in, then Arnfield with his long-reaching jabs seemed to have the edge for a couple of rounds until Boulden looked to gain momentum towards the mid rounds and started to look more confident. The fight developed in to an all-action war between these two tough men and we (at ringside) found ourselves clapping at the ends of each round in recognition of the non-stop action. More...