By Jim Everett June 16th, 2011 All Boxing Articles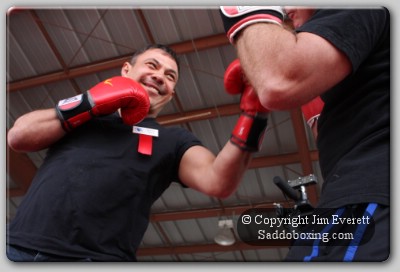 Click the above Image for more Photos from this Event
By now everyone has read and heard about Mike Tyson getting choked up or Sylvester Stallone declaring "Yo, Adrian! I did it!" as they gave their induction speeches this past weekend at the International Boxing Hall of Fame. It was a spectacular event and for many the highlight of the weekend, but for some of us that didn't have the opportunity to stay for the ceremony the rest of the weekend was just as exciting.
I have been to the International Boxing Hall of Fame in the past but never for their induction weekend which typically falls on the same weekend as the Puerto Rican Day parade in New York City. In past years I always seemed to be booked covering a Miguel Cotto fight at Madison Square Garden on the eve of the parade.
This year provided the perfect opportunity to attend. A high profile list of inductees that included Mike Tyson, Julio Cesar Chavez, Kostya Tszyu, Nacho Beristain, Joe Cortez, Sylvester Stallone and no major boxing events to cover paved the way for my first induction weekend.
The weekend begins on Thursday and runs through Sunday. Thursday through Saturday include a variety of events such as ringside lectures, celebrity workouts, fist casting ceremony, 5K run, golf outing, boxing autograph card show, dinners and other special events all of which are complete with several opportunities to meet current and retired boxers. The weekend ends on Sunday, beginning with a parade which includes all the attending boxing celebrities and finishes with the Hall of Fame induction ceremony.
My plan was to arrive Thursday evening and attend events all day on Friday and Saturday. I went into the weekend knowing I would be missing the highlight of the weekend by not being able to stay through Sunday. Although I was a bit disappointed to not have that opportunity, my feelings were quickly dismissed after experiencing all the events on Friday and Saturday. More...