By Jane Warburton November 30th, 2010 All Ringside Boxing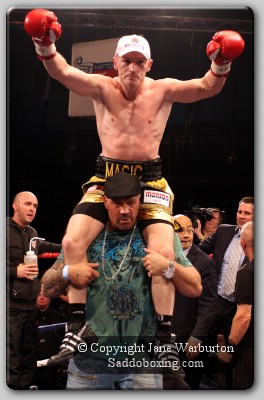 Click the above Image for more Photos by Jane Warburton
Friday night, at the Reebok Stadium, Bolton, Hatton Promotions hosted an all-action fight-card which headlined 'Magic' Matthew Hatton's second defence of the European Welterweight Title.
Matthew Hatton (Manchester) v Roberto Belge (Switzerland)
EBU (European) Welterweight Title
Hatton looks sharp as he faces undefeated Belge. He lands with a decent left shot in the first minute of the opening frame then brushes aside the punches of his opponent. Belge tries for a big swinging right but Hatton gets in with a left to the face which throws the Italian off-balance. Hatton looks confident as he finishes the first round.
Belge comes out of his corner throwing punches as they begin the second. Hatton is warned a couple of times (to keep the head up and for holding on) but he lands with a clubbing right to the head of Belge just inside the third minute and finishes the round with another short right hook. More...