By Danny Wilson August 7th, 2015 All Boxing Articles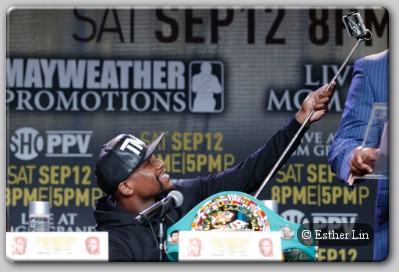 The best ever? Really? Does a boxer that wishes to be known by that title really pick a former champion, who has been handily defeated by Robert Guerrero and Victor Ortiz as well as stopped by Jesus Soto Karass, to face in his "final" fight?
First of all, does anyone actually believe that Floyd Mayweather Jr will hang up the gloves after he, predictably, easily outboxes Andre Berto on September 12 to see his record to 49-0 and equalling Rocky Marciano's career undefeated mark?
Mayweather is almost certainly saying his 49th contest will be his last fight as a bargaining chip to be financially coerced out of retirement by whichever TV company puts up the largest sum.
And, he'll almost certainly face, for his attempt at breaking Marciano's record, someone that he's already defeated, such as Manny Pacquiao or Miguel Cotto, and is confident that he could do so again. More...