By Iain Langmaid May 17th, 2014 All Boxing Articles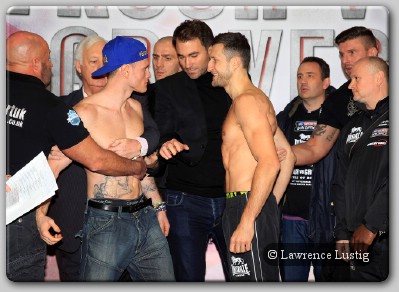 In the opening months of the current calendar year, it has been the talent rich Lightweight division which has been attracting the most amount of media attention here in the United Kingdom more than any other division here to date, whether it be domestically or on the world stage.
The year of the Lightweights started off at the Motorpoint Arena in Cardiff in February with former WBA Light-Welterweight Champion/British Lightweight Champion Gavin Rees serving up a thrilling back and forth contest with former British Super-Featherweight Champion and fellow Welshman Gary Buckland.
The contest was originally billed as a final eliminator for the British Lightweight title and was also seen as a great trade fight between two boxers looking to rebuild their careers for various reasons with the big prize being the British Lightweight title, which Rees has held prior to his world title shot, which came against the brash and then unbeaten American starlet Adrien Broner for the World Boxing Council's portion of the 9stone 9lbs division.
In contrast, Buckland was looking to show he could be a domestic force after being flattened in the fifth round by Liverpool's Stephen Smith down at Super-Featherweight by a right uppercut back in August at the same Arena. More...