By Robert Brizel December 6th, 2010 All Ringside Boxing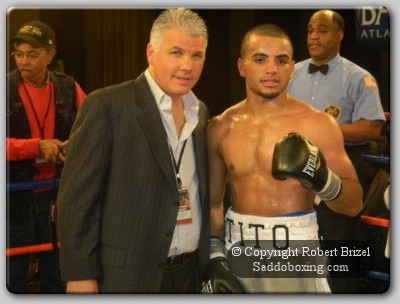 In the preliminary to the main event Joe DeGuardia's Star Boxing at Bally's Hotel and Casino in Atlantic City, New Jersey, hot welterweight prospect Raymond 'Tito' Serrano moved closer to world title contention status with an impressive fifth round knockout of Geoffery Spruiell. Since Serrano weighed 147.7 and Spruiell 148.5, the eight rounder went off at junior middleweight. A good contingency of young flag waving Latino fans cheered Serrano on during his bout.
Serrano's 14-0 (7) record includes a majority decision win over Ayi Bruce of Ghana, who won the vacant IBA welterweight title by decision over Shamone Alvarez in the main event which followed Serrano's bout.
Serrano dropped Spruiell with a short left early in round one, and then dropped him again with an overhand right in the first for a 10-7 round. Serrano then carried Spruiell. Serrano threw a lot of straight left jabs, and some right jabs. Spruiell appeared muscular, but could not fight, or possibly came into this bout with absolutely no game plan.
Spruiell spent the bout sitting on the ropes waiting for Serrano to come in and throw jabs, and then tried to counter with a flurry. Spruiell kept his guard low, however, and such a poor defense left the opening for Serrano to finish the showcase. Tito was patient with his straight left, just scoring and torturing the clueless Spruiell. In round three, Tito changed tactics and began working the body of Spruiell on the ropes, breaking him down further for two rounds and setting up the grand finale. More...