By Jane Warburton February 21st, 2010 All Ringside Boxing
**With Slideshow**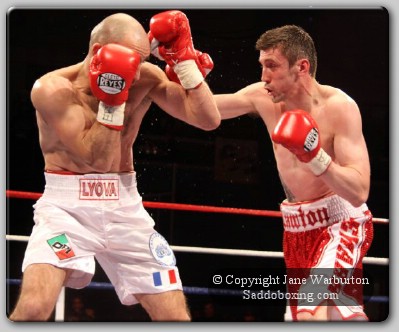 © Jane Warburton / Saddo Boxing
Friday night, at the Fenton Manor Sports Complex, Stoke-on-Trent, England, Hatton Promotions hosted a fightnight which would headline three title fights and a title eliminator.
In a packed venue, local boxer Scott Lawton was welcomed by his army of supporters.
Lawton faced Armenian-born Leva Kirakosyan of France, for the vacant European Super-Featherweight Title but, sadly, it was to be a short night for the likeable man from Stoke.
Despite the big height difference (he towers over his opponent) – Lawton enters the ring as the underdog against big hitting Kirakosyan.
In the opening forty seconds of round one, Kirakosyan 'shoots-out' a right that lands to the face of Lawton and he falls to the canvas. He gets up quickly and smiles – but looks unsteady. Kirakosyan goes straight at him and Lawton tries to keep away from the Armenians advances – using the expanse of this larger ring. More...