By Jane Warburton April 19th, 2011 All Press Releases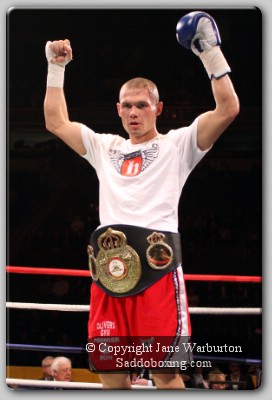 © Click Image for more photos by Jane Warburton
On Saturday night, Martin Murray of St. Helens, retained his WBA International Middleweight Title by fourth round TKO over John Anderson Carvalho of Brazil.
Murray got off to a steady start against Carvalho but it wasn't long before he began to land his trademark body-shots. A neat left hook to the body in round four saw the Brazilian sink to his knees and was unable to make the count.
The win sees Murray notch up his twenty second win with no losses and it's clear that the St.Helens boxer feels more than ready to land a big Title fight.
Carvalho's record now stands at 21 wins (11 by KO) 5 losses (2 by KO) and 1 draw. More...