By Jane Warburton May 3rd, 2011 All Ringside Boxing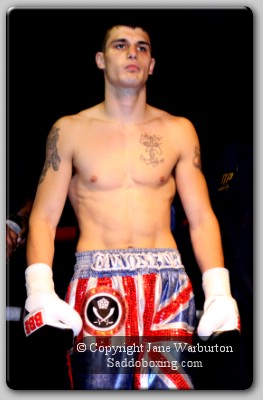 © Click Image for more photos from this Event
On Saturday night, at the Don Valley Stadium, Sheffield, England, Dennis Hobson promoted a fight-night which – aptly named a 'Right Royal Rumble' - featured nine bouts from local boxers.
Liam Cameron (Sheffield) v Jason Ball (Doncaster)
8 x 3 Middleweight Contest
The main bout of the night saw Liam 'Canonball' Cameron face 'Daddy Cool' Ball in a scheduled eight rounder. But Cameron was in no mood to 'hang about'! The Sheffield man pressured his opponent with head-shots mid-way through the opener and Referee Howard Foster was forced to jump in.
Cameron wins by first round TKO and improves to 9 wins (3 by KO) while Ball drops to 3 wins (2 by KO) 2 losses (1 by KO) More...