By Jane Warburton January 24th, 2011 All Ringside Boxing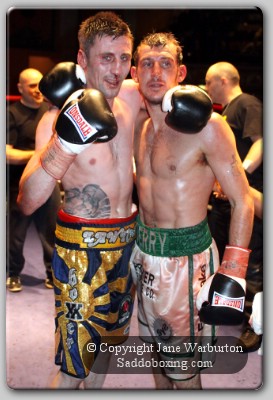 Click the above Image for more Photos from this Event
Saturday night, at the Olympia in Liverpool, England, Steven Vaughan promoted a fightnight that headlined the vacant IBO Lightweight Title bout between Scott Lawton of Stoke and Derry Mathews of Liverpool.
This was to be the second time that these two fighters had faced each other. Lawton won last time out by securing a sixth round TKO in November 2009.
Round one gets off to a steady start for both men, but an accidental clash of heads causes a cut to the head of Matthews, which starts to bleed.
Known for getting cut – Mathews looks undeterred. It's a good round two for Mathews but Lawton 'flies' out of his corner for the third. He grins at Mathews when the local man lands, as if to say, "is that all you've got?"
Lawton is sent tumbling backwards in the closing seconds of the sixth round and gets up grinning as the bell signals the end of the round. The seventh was a good round for Mathews who looks to be growing in confidence. He has huge support from the Liverpool crowd – most of whom are on their feet.
Another clash of heads in the eighth sees Lawton shake off the effects as his nose takes the impact. Blood starts to flow from the nose and Mathews has another cut to the head – this time in the middle, high on the forehead. More...