By Jane Warburton September 25th, 2011 All Ringside Boxing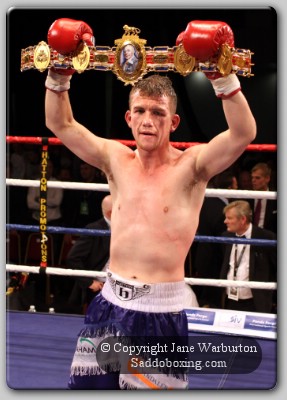 Click the above Image for more Photos from this Event
Gary Sykes (Dewsbury) v Gary Buckland (Cardiff, Wales)
BBBofC British Super-Featherweight Title
The much anticipated duel between Gary Sykes and Gary Buckland did not disappoint! It was a thrilling all-action contest with performances that both men should be proud of.
As the fight begins, Sykes almost stumbles back immediately at the start of the first as Buckland strikes first. The Welshman looked sharp and determined from the 'off' and catches Sykes with a left hook just inside the opening minute which sends a clear message – that he was ready and he meant business!
Sykes (for me – in my ringside photographers position) seemed to struggle at first to get in to a rhythm, but he does begin to settle in after a couple of rounds.
Buckland lands a great uppercut mid-way through the third which snaps Sykesy's head back, but every round is non-stop action and the crowd are treated to an exciting fight. The punches were cringeworthy – looking far worse from my position live than when I watched back afterwards, and I was surprised how fresh both men still looked past the sixth round despite the action. More...