By Jane Warburton April 24th, 2009 All Ringside Boxing
**With Slideshow**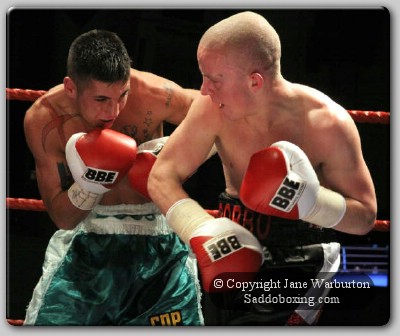 © Jane Warburton / Saddo Boxing
Last nigh, at 'The Troxy' in the East End of London, England, Frank Maloney hosted a St.Georges Day Dinner Event which would show four action packed contests including an English title fight.
Billed as 'The Slayers' - this special fund-raising event was headlined by the English Super Flyweight title contest between Ross 'The Boss' Burkinshaw of Sheffield and Mike 'Robbo' Robinson of Liverpool.
The event also signalled the launch of Maloney's 'St. Georges Sporting Club' which promises to host men-only 'do's' around the country as well as mixed-sex events, such as a Summer Ball, to raise money for charity.
It was a big night for Mr. Maloney, not just because of the club launch, and the setting of The Troxy - but boxing celebrities, friends, colleagues and family gathered to celebrate his 25th anniversary as a promoter.
The Troxy - an 'Art Deco' styled venue in the heart of London's East End - was packed with guests. There were forty tables, plus the top-table, where guests enjoyed a typically 'hearty' English three course meal. More...