**With Slideshow**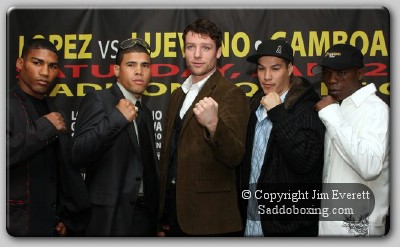 © Jim Everett / Saddo Boxing
Thursday at Madison Square Garden in New York City, Top Rank held a press conference to announce their upcoming world championship doubleheader featuring Juan Manual Lopez, 27-0 (24), who will move up in weight to challenge WBO Featherweight champion, Steven Luevano, 37-1-1 (15).
Also featured is WBA Featherweight champion, Yuriorkis Gamboa, 16-0 (14), against Rogers Mtagwa, 26-13-2 (18). Both championships will be televised on HBO's Boxing After Dark on Saturday, January 23, 2010 at Madison Square Garden.
Last October it was Lopez who faced Mtagwa in what turned out to be a difficult fight for him. After Lopez built an early lead on the score cards both fighters began trading power punches and throwing bombs. Lopez staggered but did not go down showing tremendous heart to get through the final rounds as Mtagwa was on the attack. Although Lopez won a unanimous decision Mtagwa felt he had won the bout and was robbed of the victory.
Due to his strong performance Mtagwa earned another title opportunity with his upcoming fight against Gamboa. His manager Joe Parella spoke for Mtagwa, " Rogers doesn't like to talk for some reason, but we would like to thank the Gamboa camp for the opportunity to fight. We promise that we will be in good shape and we hope to put on as good a performance as we did with Juan Manuel Lopez."
The confident Gamboa addressed the media, "I'm here to keep my promise that every time that I find myself in the squared circle that I will be at my best. There will never be any doubt that I will bring home the victory."
Top Rank president Todd DuBoef who promotes both former Olympians Lopez and Luevano stated, "Someone is going to lose, but at least we can say we're doing what's best for them. For JuanMa, that means going up in weight and challenging for another title."
The manager of Lopez, Orlando Pinero, thanked team Luevano for a chance to fight for his title. "There has been a lot of talk and speculation with our last fight against Mtagwa. I just want to let you know that we know what we are capable of, it's a great learning experience and we will be more ready this time around," said Pinero. "It's our dream to be a four-time world champion this is our second attempt at half way there and if Gamboa ever gets in our way we will also show him what we are capable of."
Lopez spoke about his upcoming opponent, "A lot of people think that I have been underestimating Steven and that's just not the case I know how good he is he is not just a stepping stone for bigger things for me he is a real obstacle in my way." Lopez continued. "He is a great champion, a great boxer and he has shown that over and over again. I'm going to fight him very hard and be in the best possible condition to win that second title for myself and Puerto Rico ."
The admittedly soft-spoken Luevano made a brief statement, "I'm just going to fight. I'll be ready; I'll always be two steps ahead and be ready for whatever he brings to the table."
This doubleheader will mark the second consecutive appearances of Lopez and Gamboa at Madison Square Garden. Top Rank hopes to continue to build both careers with a possible future showdown at Madison Square Garden in June during the weekend of the Puerto Rican day parade.