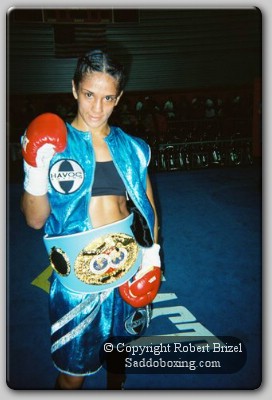 Dr. Mario Yagubi and Bob Duffy of Boxing 360 scored the biggest win to date for their Boxing 360 promotional firm when Brooklyn-based Amanda Serrano won the inaugural female International Boxing Federation Super Featherweight title with a second round stoppage of Kimberly Connor of Little Rock, Arkansas. The bout was the main event of an eight bout card promoted by Havoc Boxing Promotions at Aviator Sports Arena in Brooklyn, and the first world title bout at Aviator Arena.
The boxing show was a 9/11 'We Will Never Forget' tribute card held on the eve preceding the tenth anniversary of the Twin Towers September 11, 2001 tragedy in New York City. The memorial festivities of the following day dominated thoughts.
Andre Rozier of Havoc Promotions explained the climate of the event. "Our show was in reverence, geared towards 9/11. We will never forget (what happened). We were fighting in memory of 9/11. We live in the greatest country in the world. We are the United States of America. We are strong, confident and diligent. We are constantly reminded we were basically at war that day, and it will never end."
Rozier told more about the energy of the evening, given the circumstances of staging the event on the eve of the September 11 anniversary. "They (the fighters) were all on a stellar high. The event was exciting and they put on a great show. The entertainment value was plus ten. Not only did we have a great world title fight, we also had one of the most exciting bouts of all time here between Anthony Irons and his opponent."
In the main event, Amanda Serrano, now 12-0-1 (8), battled evenly with Kimberly Connor, a boxing and MMA fighter from Little Rock, Arkansas, now 9-2-2 (4). Connor, who had not lost a bout in seven years, was the backup opponent for the IBF title bout. The originally scheduled opponent, Fatuma Zarika of Kenya, left West Palm Beach, Florida, to return to her native Kenya due to an emergency, and was unable to return due to visa problems.
Connor wanted the title bout and came to win. The first round appeared even, with both fighters trying to score points with body shots on the inside in center ring, but neither fighter appearing effective with the approach. Connor landed some surprising left hand leads to the head of Serrano as counters in round and two, both in center ring and off the ropes, when Serrano tried to jab to the head. Serrano was not fazed by anything Connor threw or landed, however.
Midway through the second round Serrano began landing head shots at will on Connor, one of which, an overhand left to the head, put Connor on her back. Connor beat the count and arose on unsteady legs leaning on the ropes. Though the referee, Benjy Esteves Jr. gave Connor another chance, Serrano moved in for the kill and began battering a defenseless Connor with head shots at will, prompting referee Esteves to stop the contest at 1:45 of round two.
It should be noted this particular female world title bout featured two minute rounds and was scheduled for ten rounds. Different states and country jurisdictions have used three minute rounds at their discretion.
Amanda Serrano's trainer, Jordan Maldonado, explained Amanda had prepared for the IBF title fight with great sparring, an endless number of rounds with 130 pound male opponents such as Gary Starks and Joselito Collazo. She also sparred with her sister Cindy Serrano who is now training for a female world welterweight title fight with Anne Sophie Mathis in Moselle, France on October 1, 2011.
Maldonado explained, "There's no such thing as gender training for a female fighter. It's all about keeping sharpness and keeping it together. You don't train a fighter for a particular fighter (Serrano's opponent was changed). I always train my female fighters for all types, because at the ends of the day the opponent can be switched. The switch of Amanda's opponent was made two weeks before the bout. We train for all styles, as anything can happen on any given day."
According to Boxing 360 President and CEO Dr. Mario Yagubi, next up for Amanda Serrano is a planned IBF-WBC unification match with WBC female Super Featherweight champion Frida Walberg of Sweden in early 2012. Another future opponent for Serrano could also be former female world featherweight champion Ina Menzer of Germany, who returns to the ring on September 24, 2011.
Result: Amanda Serrano TKO2 Kimberly Connor, Super Featherweights
Serrano wins the inaugural IBF female World Super Featherweight championship
The "fight of the night" at Aviator Sports Arena turned out to be the preliminary four round welterweight bout between former New York City Golden Gloves champion Anthony Irons and last minute substitute opponent Fernando Rodriguez, a Mexican fighting out of Dallas, Texas. Irons, now 4-0- (2), Brooklyn, New York, had his hands full with Rodriguez, now 6-6 (3). Though Irons possessed superior boxing skill, Rodriguez clearly had more experience and more ring generalship.
Irons used a fast left jab to score numerous times to the head of Rodriguez in round one. Rodriguez tried to counter but was ineffective as Irons had a considerable height and reach advantage. Irons dropped Rodriguez during an exchange who then beat the count and continued to force Irons to fight a furious pace. By the end of the round, Irons had won the round but appeared to be breathing heavily.
Rodriguez, who had missed wildly in the first, battered Irons senselessly on the ropes on the second round, who did his best to survive without going down. Irons regained his second wind in the third and the fourth round, but he had no power. Rodriguez, who was missing wildly but was in condition, figured the local judges would never give him a point decision anyway, so he dropped his defense and opted for a George Foreman versus Ron Lyle offense style with an exciting slugfest which brought the crowd to its feet during rounds two, three, and four.
Rodriguez explained his strategy. "After the first round knockdown, I knew I was behind on points, so I was trying to make up for it. In the second round, I caught Irons with a big left hook to the body and hurt him. My only regret was I didn't jump on him and knock him out when I had him hurt. I didn't feel any power or effectiveness from Irons after the second round. Why run around clinching? I slugged it out. Every fight I'm in, I'm big on entertaining the crowd. I thought the decision could have been closer, but my job is to fight. The judges thought he won."
Result: Anthony Irons UD4 Francisco Rodriguez, Welterweights
Scoring: 39-36 twice and 38-37
Other Undercard Bouts
Dinmukhamed Niyazov (Debut) W4 Mateo Acosta, Junior Welterweights
Zachary Ochoa (Debut) TKO4 (2:53) William Ware, Junior Welterweights
Alvin Acosta W4 Lekan Byfield, Super Middleweights
Armin Mrkanovic TKO2 (2:02) Kenneth Roser, Cruiserweights
Subryan Ramayyya (Debut) TKO1 (2:15) Jonathan Gonzalez, Jr. Featherweights
Neuky Santelises (Debut) TKO1 Fernando Ramos, Lightweights