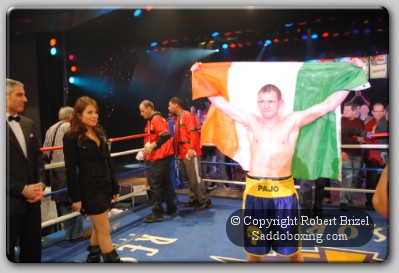 In the main event of a seven bout card at Resorts Casino in Atlantic City, New Jersey, promoted by Team Snooki Boxing in a cooperative venture with Final Round Promotions, featherweight contender Irish Patrick Hyland of Dublin, Ireland, won an eight round decision over Emmanuel Lucero of Mexico City, Mexico, in a bout which looked closer to a draw and was a war from start to finish.
The bout was broadcast live over the internet on Behindthering.com as a pay-per-view event seen by millions in Ireland with the three Irish Hyland brothers featured.
Jersey Shore television star Nicole 'Snooki' Polizzi, event co-sponsor, and former light heavyweight and cruiserweight champion Virgil Hill (now training for a comeback), were among celebrities at ringside. Former World Super Bantamweight champion Tracey Patterson, trainer of Patrick Hyland, was in the corner of Hyland.
Both fighters were in top condition and came to win, and neither could hurt each other, but Hyland, now 25-0, 11 kayos, who enjoyed height and reach advantage, used effective jab combinations to win the first three rounds while moving side to side.
Lucero, now 26-9-1, 14 kayos, a come forward stalker, switched to a 'Plan B' to win rounds four, five and six, bringing the bout to the inside in center ring, attacking the body and fighting in a telephone booth, Jeff Fenech style, triggering heated exchanges.
Hyland was perhaps a bit more aggressive, throwing more punches and landing more overall to win. The bout was for the most part clean. Lucero had a fearless and fiery hunger in his eyes, and took Hyland on a trip to hell.
Rounds seven and eight were the best rounds, featuring give and take exchanges, with Lucero taking the bout from the center of the ring to the ropes back and forth with a Plan C', neither fighter giving ground, remaining in center ring.
Lucero frequently put his hands down and taunted Hyland to come in, countering any jab he threw. Both fighters gave it all to try to win the last two rounds, making it interesting. True to form in a bout difficult to score, all three judges saw it differently.
After the bout, Patrick explained he knew what was coming. "We knew Lucero was gonna come in and slug (on the inside). There were no surprises." Patterson, son of the late former world Heavyweight champion Floyd Patterson, explained the bout preparations. "We knew he was going to come in, use his head, hold, wrestle, and all those things his style presents. You don't want to spar with a guy that head butts and throws elbows, so you just manage it the best you can."
Tracey remembered how his father, Floyd, approached traditional training en route to success. "My dad (Floyd) felt that speed, the faster you were, the more powerful you can be as well. My dad was into the basics, throwing a right hook, as left hook, with power technique and speed. Patrick did these things well."
Result: Irish Patrick Hyland Win 8 Emmanuel Lucero, Featherweights
Scoring: 77-75-, 78-74, 79-73 Hyland (but the bout far closer than the scoring).