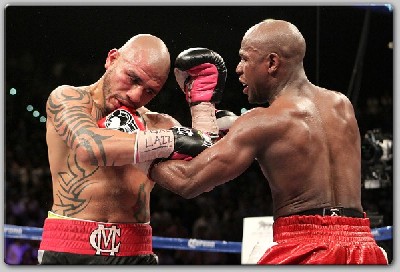 © Hoganphotos / Golden Boy Promotions
Floyd Mayweather Jr and Miguel Cotto engaged in a thrilling battle last night at the MGM Grand in Las Vegas and when the dust finally settled after 12 rounds, the WBA light middleweight title had a new owner.
Cotto came out aggressive, displaying from the start that he knew he wasn't going to outbox Mayweather and set about pressuring the five division champion behind the jab.
Mayweather showed his remarkable footwork and quick reflexes in dealing with this approach from Cotto, making his rival miss and dishing out jabs to the pit of the stomach but the Puerto Rican icon did get in a few shots.
Mayweather largely kept his distance in the early rounds, making Cotto miss most of the time while countering effectively with an array of hooks, lead rights and uppercuts.
In the third, Cotto began to find range, catching Mayweather off balance at times with unexpected efforts but there was usually instant retribution dealt out by Floyd.
The fourth saw Mayweather settle in and start fighting rather than boxing and the investment paid off as the Las Vegas resident nailed Cotto with pinpoint right hands.
Cotto was not dissuaded however and continued to bring the pressure, and in the fifth round gave Mayweather a nosebleed with a hard, flush jab.
For Mayweather, this was the confirmation that he was in a real fight now and the next few rounds are a dog fight as the pair stand in front of each other and swap blows, much to the delight of the packed crowd.
Mayweather reasserts control in the ninth, gaining some distance and boxing but there's still a great deal of two way action with Mayweather ripping uppercuts and Cotto mixing in body shots among his combinations over the next two frames.
The final round sees Mayweather open up in a final effort to KO his adversary. Long right hands and left uppercuts are getting in and one sequence in particular late in the round wobbles Cotto but the veteran makes it thru to the end.
When the scores are read Mayweather captures Cotto's WBA light middle belt by rather wide margins of 118-110, 117-111 and 117-111.
Mayweather stays undefeated at 43-0 (26), but is given his toughest test since the first Jose Luis Castillo clash in 2002. Cotto loses despite putting on one of the best performances of his career, dropping to 37-3 (30).
The undercard saw WBC light middle king Saul Alvarez, 40-0-1 (29), handily outpoint faded former multi-weight champion Shane Mosley, 46-8-1 (39), over 12 rounds by scores of 119-109, 119-109 and 118-110.
The bout was never in question as the 21 year old Alvarez was just too quick, strong and young for the 40 year old version of Mosley to do anything with.