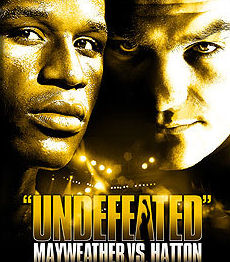 Click For Tickets
Floyd Mayweather Jr. and Ricky Hatton face off on December 8, 2007 at the MGM Grand Garden Arena in Las Vegas, Nevada. Both of these fighters are looking to prove that they are the best Light Welterweight boxer around. This match should prove to be a great fight with an international USA – UK clash to fuel fan interest even more.
Promoters have advertised this match as "Undefeated", sighting the fact that both of these fighters have an undefeated record. Floyd Mayweather Jr. has been one of the most prolific boxers since he started in 1996. His Pro Record of 38 Wins, 0 Losses and 24 KOs continues to impress the boxing world, but his fighting style, and "Pretty Boy" looks have impressed boxing fans all over the world. He continues to climb the boxing rankings in hopes of being claimed the best Light Welterweight Champion of all time.
Ricky "The Hitman" Hatton is one the of the best Light Welterweight boxers today. Born out of Manchester, Ricky Hatton is being called one of the best British Boxers of all time. His undefeated record of 43 Wins, 0 Losses and 31 KOs has made him an IBF and IBO Light Welterweight champion.
One thing is for sure, on December 8th under the glittering lights of the Vegas strip, someone must fall and give up the "Undefeated" title forever. With steaks like this on the line, getting Mayweather vs. Hatton tickets can be rough. Due to sheer overwhelming fan interest mixed with promoter and corporate sponsor ticket rights and high-rolling boxing enthusiasts and celebrity favoritism, the box office tickets were sold-out within 30 minutes of release. However, determined fans still have opportunities to get a seat and join the crowd on December 8th. The official box office of the MGM Grand Hotel and Casino may have tickets come available closer to the fight date. Box offices typically release small amounts of additional tickets periodically. You can search online at MGMGrand.com. Another option is ticket brokers. Some online brokers like RazorGator.com are showing seats available now. Dealing with a reputable company will provide you with more security then trying to get tickets of the Vegas streets before the fight.
You just need to determine what you are willing to pay to be a part of this moment in boxing history. Whether you are a supporter of the American "Pretty Boy" or the British "Hitman", this is sure to be a great match and once in a lifetime experience.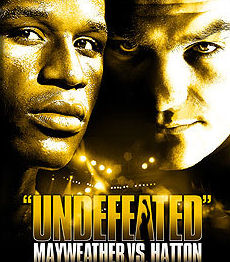 Click For Tickets