By Jane Warburton December 6th, 2011 All Ringside Boxing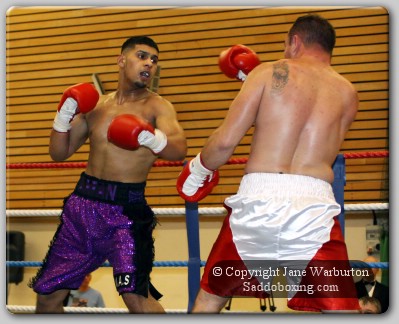 Click the above Image for more Photos from this Event
There was a great atmosphere at the Hermitage Leisure Centre, Leicester, on Sunday as fight fans gathered for an afternoon of boxing. The Clifton Mitchell Promotions event – aptly billed as 'Christmas Fist-ivity' – featured six bouts – four of which were literally 'knockout!'.
Arfan Iqbal (Derby) v Robert Studzinski (Llanelli, Wales)
6 x 2 Light Heavyweight Contest
Debutant Iqbal was well supported by the crowds who were clearly thrilled to see their man win by second round TKO over his Polish-born opponent. Studzinski was on the canvas in round one then fell heavily to the canvas from a solid punch in round two. Lying flat out with his head outside the ropes – it was a worrying time as ringside Medics tended to him. Iqbal gets his first pro-win in dramatic style - while Studzinski drops to 1 win (1 by KO) 4 losses (2 by KO).
Tommy Ward (Leicester) v Andy Mitchell (Doncaster)
6 x 2 Heavyweight Contest
Debutant Ward – born in Edinburgh - had an army of fans in Leicester to cheer him on! He faced another debutant - Andy Mitchell of Doncaster, who was on the canvas in the first round then stopped in the fourth. Ward gets off the mark with his first pro-win by KO.
Junior Thompson v Lee Jevons (Swanwick)
3 x 2 Exhibition Bout in the Welterweight Division
Steve Jevons (Swanwick) v Andrew 'Paddy' Patterson (Birmingham)
4 x 3 Welterweight Contest
It was a closely matched contest between these two as both men were getting caught with shots. Patterson was caught in the first round and his legs seemed to 'lock' but he came back out in the second round with wild swinging shots that just missed the mark. Southpaw Jevons kept focussed but he too was caught in the closing seconds of the fourth and final round. Jevons wins on points 39-37 with Patterson getting the last round on Robert Chalmers scorecard.
Jevons improves to 7 wins no losses, while Pattersons record now stands at 4 wins (4 by KO) 23 losses (4 by KO) and 3 draws.
Andy Ingram (Nottingham) v Michal Skierniewski (Stoke-on-Trent)
6 x 2 Heavyweight Contest
Birmingham-born Ingram piled on the pressure – backing Skierniewski on the ropes in the third round. Polish-born Skierniewski was unable to get away from Ingrams barrage of punches and Referee Rob Chalmers stopped the contest. Skierniewski suffered a bloody nose and a cut to the left brow which required five stitches. Ingram's record now stands at 2 wins (1 by KO) while Skierniewski drops to 3 wins (1 by KO) 13 losses (7 by KO) and 1 draw.
Prince David Davis (Ilkeston) v Martyn King (Cleaton Moor, Cumbria)
6 x 2 Super Middleweight Contest
Tall, rangey boxer – Davis, scored a second round TKO over Cumbrian man – King.
Davis improves to 4 wins (1 by KO) and 2 losses, while King drops to 2 wins 10 losses (3 by KO).
Click to read more boxing articles by Jane Warburton
Discuss in Boxing Forum
---