By Nick Chamberlain December 10th, 2011 All Boxing Previews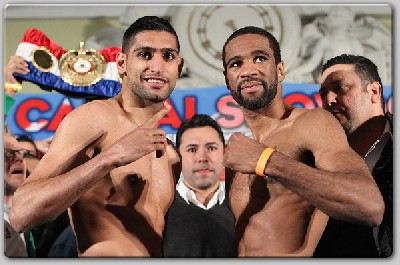 © Tom Hogan - Hoganphotos / Golden Boy Promotions
Tonight at the Convention Center in Washington DC, Amir Khan, 26-1-0 with 18 KO's, defends his IBF and WBA light welterweight titles against challenger Lamont Peterson, 29-1-1 with 15 KO's.
This will not be the first time Peterson has had a shot at a world title. Back in December 2009, Peterson stepped up to fight WBO champion Timothy Bradley. Peterson was undefeated at the time and there was a great deal of buzz and excitement around this young man, but Bradley is no pushover and was also undefeated.
Bradley is a ball of energy, an aggressive little fighter, and so when that bell rang it looked as if Peterson had not expected Bradley to fight the way in this manner.
Bradley was jumping in, letting shots off and getting out of harm's way very efficiently, and Peterson couldn't quite catch him. Bradley is an orthodox fighter just like Peterson, but he could square his rival up so easily that by the third round he had dropped Peterson, who was now getting slightly manhandled by the smaller, more compact fighter.
Toward the end of the fight, Peterson picked it up, but it was not enough to take the decision and Bradley kept his title.
Incidentally, whilst speaking of Bradley, he should be next in line for Amir Khan at some point really. It would be nice if Khan or Bradley focused on unifying the division other than talking about who wants Floyd Mayweather, who clearly doesn't want them.
Following a warm up fight, after his loss to Bradley, Peterson again stepped up in competition. This time it was Victor Ortiz, who put Peterson down twice in the third round.
Again, Peterson was getting caught square. Peterson definitely has skills; his upper body movement can be quite deft at times, as can his footwork, it's just that sometimes it looks as if he gets caught up in fighting the opponent's fight as opposed to sticking to his own tactics.
At times against Bradley, Peterson was being pushed back by the smaller man, fighting off the back foot, and he does not seem to like fighting under pressure or not at his pace. But yet, later in the fight when he wanted to be clever and start slipping and rolling, he could.
After losing the majority of the first half of the fight to Ortiz, something switched and Peterson came out firing on all cylinders and managed to rescue a draw, not easy after losing so many rounds and getting a 10-7 round against you.
We all know what Khan is about, and he is looking on fine form after his recent destruction of former world champion Zab Judah, which was an annihilation.
Khan's attributes are speed, agility, footwork, a new and improved nifty defence and a bit of a pop in his punch as well, more than Peterson's record suggests anyway, as Khan's KO ratio is 66% and Peterson's is 48%.
Both fighters have good engines and can go all the way down the straight, through the championship rounds, although the last time Peterson heard the final bell, he lost against Bradley. He went twelve with Victor Cayo, his most recent victim, but stopped him very early into the twelfth round.
Khan has had two long, hard, drawn out fights over the distance. One being Andreas Kotelnik and the other being Marcos Rene Maidana.
One wonders how Peterson would fare against a fighter like Maidana?
The American was an amateur star, winner of the Golden Gloves in 2001 and the US champion in 2003. He is a talented fighter, but it seems that things have to be going his way for him to capitalise.
He knows this is his hardest test to date; Khan's recent outings, forgetting the stinker that was the Paul McCloskey bore fest, have been fantastic. Obviously, the Maidana fight was a real breakthrough for Khan.
Khan's recent opponents such as Dmitriy Salita, Judah, Maidana, Marco Antonio Barrera, Kotelnik, Paulie Malignaggi were all good fighters, a couple of greats in there, but they all looked genuinely shocked at how fast Khan is and how quick he works the angles.
I think the same thing will happen here. Peterson will have his game plan as will Khan. It's just that Khan has the better tools, well not better just…sharper. I don't think you can prepare for someone of Khan's speed and footwork and I can see Khan stopping Peterson possibly early, probably later.
Click to read more boxing articles by Nick Chamberlain
Discuss in Boxing Forum
---