By Robert Brizel February 6th, 2012 All Ringside Boxing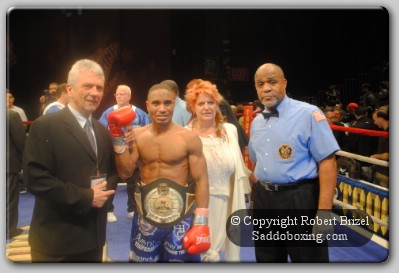 A determined lightweight veteran Dorin Spivey, entering the ring at age 38 but looking age 28 in top condition, outclassed a game but overmatched Victor Vazquez to score a seventh round stoppage at 0:25 and win the vacant NABA lightweight championship in the ballroom main event at Tropicana Hotel and Casino in Atlantic City, New Jersey, on Saturday night, February 4, 2011.
Vasquez was still game, but referee Lindsay Page wisely stopped the bout in a corner with Vasquez taking too many head shots, and offering little counter resistance to Spivey's consistent attacks.
Spivey, Portsmouth, Virginia, now 41-6, 30 knockouts, was overqualified to be put in with Vasquez, now 14-6-1, 7 knockouts, Philadelphia, Pennsylvania. Perhaps the telltale sign was when Spivey's corner came in with an army of personnel, while Vasquez came in with one corner man and noted cut man Joey Eye (who had been working one corner or another all night and was available).
Vasquez actually gave a decent accounting of himself. Unable to win a jab war against the more experienced and seasoned Spivey in the first three rounds, Vasquez alternated to a 'Plan B' and took the bout to the body on the inside.
Vasquez actually landed a few decent head jab and hook counters here and there. Spivey, to his credit, fought very smart and never floored the gas pedal, boxing Vasquez, never looking for a kayo.
Spivey got good work in, patiently picking left and right jabs when he found the opportunities. When Vasquez did come inside, Spivey traded body flurries with him. Vasquez had a big heart and wanted to win and would not go away, but faded midway through round six as Spivey picked up the pace and tempo and landed with enough consistency and frequency to Vasquez' bald head to force the stoppage.
Vasquez, who turned 29 years old the week before the bout, will have another day.
In a wild development, local Atlantic City lightweight Osnel Charles, 9-2 with a victory over Victor Vasquez at Harrah's Pennsylvania Casino in January 2011, climbed to ringside and challenged Spivey for a shot at his title. The two chatted and Spivey said he is open to the match and would talk with Charles' camp in the future.
Result: Dorin Spivey TKO 7 Victor Vasquez, Lightweights (0:25 of the Seventh)
Spivey Wins Vacant NABA Lightweight Championship. Referee: Lindsay Page
WBA-NABA Official at Ringside: George Martinez, Toronto, Canada
Click to read more boxing articles by Robert Brizel
Discuss in Boxing Forum
---