By Jane Warburton February 26th, 2012 All Ringside Boxing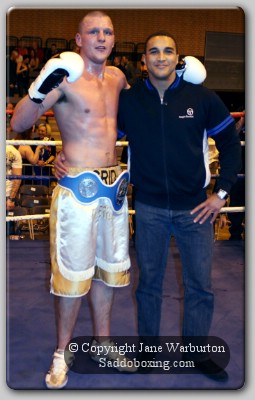 Click the above Image for more Photos from this Event
Last night at Oldham Sports Centre, England, Steve Wood / VIP Promotions hosted a seven fight Bill entitled 'Time to Shine' – which headlined the Cruiserweight British Masters International Title between Martyn 'Grid' Grainger and Carl Wilson.
Grainger dominated, but Wilson manages to get through 'Grid's' guard to land head shots. The fight is getting 'messy' by round four. In the fifth, Grainger targets the head of his opponent and pressures him in the corner. Referee Michael Alexander separates the two men and moments later Grainger lands a shot which sends Wilson flat on his back! Grainger wins by fifth round KO to claim the Title.
Grainger (Heywood) improves to 8 wins (3 by KO) 4 losses (2 by KO)
Wilson (Darlington) drops to 3 wins (2 by KO) 5 losses (4 by KO)
Luke Blackledge (Accrington) v Robert Studzinski (Llanelli, Wales)
6 x 3 Super-Middleweight Contest
Popular Blackledge forced a third round stoppage of Studzinski. The Polish-born man didn't look motivated and his work-rate was lacking. He took a number of head punches at the start of the third round and Referee Alvin Finch jumped in to stop the contest.
Blackledge improves to 8 wins (3 by KO) no losses while Studzinski drops to 1 win (1 by KO) 6 losses (3 by KO)
Anthony Smith (Liverpool) v Delroy Spencer (Wolverhampton)
4 x 3 Bantamweight Contest
'Twinny' scored a points win (40-37) over experienced Spencer.
His record improves to 3 wins (1 by KO) while Spencer drops to 14 wins (1 by KO) 131 losses (12 by KO) and 3 draws.
Liam Taylor (Middleton) v Karl Allen (Wolverhampton)
4 x 3 Lightweight Contest
Surprisingly – experienced Allen suffered a first round TKO against 'Dynamo' Taylor. The normally unstoppable Birmingham man had been under pressure and went to one knee. As he was counted he shook his head towards his corner and was clearly not comfortable. The contest was waved off and Allen admitted afterwards to not feeling 100%.
Taylor was to have faced Liam Ellis and Allen was to face Marvin Greaves, but a switch round of opponents saw Ellis face Allen instead.
Taylors record improves to 3 wins (1 by KO) no losses, while Allens record now stands at 18 wins (5 by KO) 99 losses (16 by KO) and 7 draws.
Matthew Ryan (Manchester) v Billy Smith (Stourport)
4 x 3 Light-Middleweight Contest
A confident performance from Debutant – Ryan, who faced 'Gypsy Boy' Smith in his first pro contest.
Ryan gets off the mark with a points win (40-36).
Smiths record now stands at 13 wins 108 losses (8 by KO) and 2 draws.
Sam Omidi (Manchester) v Nick Coret (Cleethorpes)
4 x 3 Light-Middleweight Contest
Debutant Omidi (aka Shokz) had lots of support from fans and secured his first pro-win on points (39-38). He 'wobbled' Coret in the third and again at the end of the fourth with wide swinging shots.
Mauritius-born Coret's record now stands at 4 losses (3 by KO) and 1 draw.
Marvin Greaves (Oldham) v John Connelly (Birmingham)
4 x 3 Welterweight Contest
Connelly took the fight at 11pm the night before but it turned out to be the best of the night! A cracking match-up between these two men – both with bags of 'attitude'!
Connelly offloads a number of pummelling shots to the body and Greaves smiles as if to say 'that was nothing – have some of this…' and repays the Birmingham man with a barrage of his own. Connelly lets his gloves hang low while he darts in with a left. But both men are busy and it proved to be an interesting fight.
'Marvelous' Marvin gets the points win (39-37) to notch up his second pro-win, Connelly's record now stands at 1 win and 1 loss.
Click to read more boxing articles by Jane Warburton
Discuss in Boxing Forum
---