By Jane Warburton March 4th, 2012 All Ringside Boxing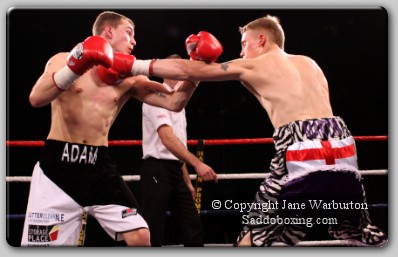 Click the above Image for more Photos from this Event
On Friday night, Adam Little from Kirkham, Lancashire, delivered an overhand right to floor Martin Shaw of Rotherham just inside the closing seconds of round one of their scheduled six-round Welterweight contest. Shaw got to his feet but Referee Steve Gray deemed him unfit to continue and waved the contest off.
The Hatton Promotions fightnight at Castle Leisure Centre, Bury, featured seven contests, without the scheduled headliner. Kieran Farrell had already suffered a late change of opponent then heard that Stephen Jennings – offered at a weeks' notice - also pulled-out.
Craig Bunn (Manchester) v Darren McKenna (Hayes)
4 x 3 Light Heavyweight
Bunn had a good first round – looking confident and dominating McKenna with a busy work-rate but then eased off a bit over the following rounds although he was still getting through (as McKenna suffered a bloody nose in the second). The Manchester man almost forced a stoppage in the closing stages– landing a right to put McKenna on his backside and almost stopping him as the bell signals the end of the contest.
A good win for Bunn on points - he improves to 5 wins 1 draw, while McKenna drops to 1 win (1 by KO) 3 losses (1 by KO)
Tom Shaw (Burton-on-Trent) v Francis Maiana (Limehouse, London)
4 x 3 Light Welterweight Contest
Maina took the fight with only a couple of days notice but he proved dangerous from the 'off' with a frequent straight right. Shaw settled in by the third round but it was a closely fought contest between these two with 'Shaw Thing' getting the points win 39-37. He improves to 4 wins no losses.
Maina drops to 1 win (1 by KO) 1 loss and 1 draw
Ryan Doyle (Gorton) v Michael Stupart (Hayes, Middlesex)
6 x 2 Featherweight Contest
Debutant 'Dangerous' Doyle got off to a busy start and secured a third round stoppage over Stupart.
The Hayes man sustained a cut to his left eye in round two – having being caught a number of times with head shots. Underneath Doyles left eye was also a swelling which the corner worked on during the break at the end of the second. But Stupeys eye began to spurt blood as his cut worsened in the third frame and Referee John Latham wasted no time in calling a stop to the contest.
Stupart's record now stands at 3 losses (2 by KO)
Callum De'Ath (Manchester) v Adrian Fuzesi (Hungary)
4 x 3 Super Bantamweight Contest
'Wildcat' De'Ath scored a points win 40-38 over Hungarian Fuzesi. The quick-footed Manchester man landed a body-shot in the second round which Fuzesi clearly felt. One such shot landed low in the fourth and Fuzesi was given a moment to recover. A close contest but De'Ath gets the win and improves to 3 wins no losses, while Fuzesi drops to 6 wins and 1 loss
Dean Halsall (Preston) v Bobby Wood (Walsall)
6 x 2 Light Heavyweight Contest
Referee John Latham brings both men together near the end of the first round to get them to 'clean it up'. Halsall finishes the second round strongly and looks like he fancies an early stoppage.
Woods left eye was swollen and bruised underneath in the fourth round and he also gets a warning for holding.
Halsall gets the points win 60-54 over Wood.
Halsalls record now stands at 5 wins no losses, while Wood drops to 4 wins 14 losses (5 by KO)
Jimmy Kelly (Wythenshawe) v Moss Hamed (Nottinghamshire)
6 x 2 Middleweight Contest
Debutants Kelly and Moss had a short night! Hamed of Shinfields gym was forced to the canvas as Kelly drove forward off-balance mid-way through the first round then seconds later Hamed catches Kelly with a good right hook that shakes the Wythenshawe man momentarily. Both men look keen to impress and they 'go at it!'
Hameds head rocks back as Kelly lands head-shots at the end of the first frame.
Just inside the first half minute of round two, Kelly lands a great right and Hamed drops to the canvas. He just makes the count - but on unsteady legs and Referee Alvin Finch deemed him unable to continue.
Kelly gets off the mark with his first pro-win.
Click to read more boxing articles by Jane Warburton
Discuss in Boxing Forum
---