By Robert Brizel May 3rd, 2012 All Ringside Boxing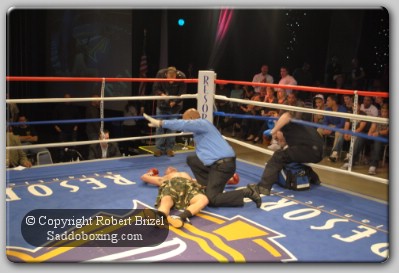 A mismatch between two welterweights on the undercard bout at Resorts Hotel and Casino on Saturday night, April 27, 2012, produced one of the most vicious and brutal of endings seen in Atlantic City in recent memory.
Union City, New Jersey welterweight southpaw Juan ' The Beast' Rodriguez Jr., now 9-0, (4), took on a challenge from Hillard, Ohio journeyman Daniel Crabtree, now 3-5, (3). Both fighters appeared to be in top condition.
However, according to light middleweight Dominique Foster out of the same Ohio gym as Crabtree said, "Crabtree trained but did not have anybody to spar with." Despite a fighter's physical appearance, and sincere attempt to win, the lack of sparring for any professional bout leaves a fighter with insufficient preparation.
Rodriguez landed a devastating left hook which ended the toe-to-toe competitive bout, leaving Crabtree out cold for the full ten count at 1:59 of round two by referee Allan Huggins. With rapid attention from ringside doctors, Crabtree was fortunate to recover and left the ring on his own power. He indicated to press at ringside after the bout later in the evening he was okay, most fortunate considering the bout's end.
Click to read more boxing articles by Robert Brizel
Discuss in Boxing Forum
---