By Jane Warburton May 13th, 2012 All Ringside Boxing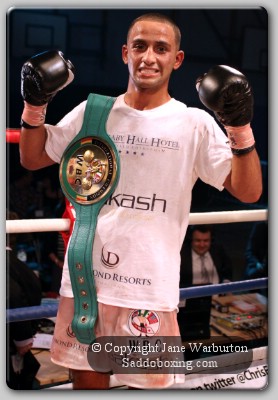 Click the above Image for more Photos from this Event
Kid Galahad successfully defended his WBC Super-Bantamweight Title for the first time Friday night by TKO over Josh 'The Outlaw' Wale. Popular Ingles Boxer – Galahad - dominated from the bell subjecting Wale to head-punches that saw damage from round one. Wale was finally stopped by a cut to the right eyelid area in the ninth round.
The Hennessy Sports promoted fightnight at Hillsborough Leisure Centre, was billed as the 'Pride of Yorkshire' and also featured the British Welterweight Title clash between Colin Lynes and Junior Witter. Londoner Lynes lost to Sheffields 'The Hitter' Witter by Unanimous Points Decision.
Kid Galahad (Sheffield) v Josh Wale (Barnsley)
12 x 3 WBC International Super-Bantamweight Contest
Both men got off to a good start but Galahad was always the busier. Wales' face started to look like target practice as the Sheffield boxer continuously connected with his face throughout the contest. The marks soon began to show and Wales's right eye sustained a cut in the fourth frame – already looking swollen from an earlier round.
Galahad was quick and despite some decent counter-punches – Wales couldn't keep up with him. By the seventh Wales was cut on both eyes with a swelling under the right and a graze on the left cheek. He had some success with hooks but Galahad was relentless. In round nine Referee Victor Loughlin took Wale over to the ringside Doctor to inspect the cuts but was allowed to continue. The Barnsley man bravely battled on but at the end of the ninth Referee Loughlin stopped the fight on agreement by the ringside Doctor. Wale protested, but from my ringside spot – the last two rounds had become uncomfortable to watch.
A very brave and gutsy effort from 'The Outlaw' but an impressive performance from Kid Galahad sees him retain the Super-Bantamweight Belt.
His record now stands at 12 wins (5 by KO) while Wale drops to 14 wins (7 by KO) 4 losses (2 by KO) and 1 draw.
Junior Witter (Sheffield) v Colin Lynes (Hornchurch)
12 x 3 British Welterweight Contest
Junior 'The Hitter' Witter won the British Welterweight Title comfortably – by scoring a Unanimous Points Decision 117-112; 115-114; 116-114, over Colin Lynes.
Not the most thrilling of contests but Referee Mark Green was kept busy. Witter started to do his 'fencing' stance at one point but was told to stop waving his glove about (!) A steady contest in which Witter looked cool and focussed.
At the end of the contest Lynes waited for the decision and promptly 'threw up' on the canvas (the Mushroom jokes continue!).
Witter improves to 41 wins (22 by KO) 5 losses (1 by KO) and 2 draws.
Lynes drops to 36 wins (12 by KO) 10 losses (4 by KO)
Chris Eubank, jnr., (Brighton) v Harry Matthews (York)
6 x 3 Middleweight Contest
It was a steady first three rounds for Chris Eubank Junior who certainly looked 'classy' – but Matthews didn't give the Brighton man an easy time. Eubank came out for the fourth round 'fired-up' and had a good final round – unleashing a barrage of headshots.
Eubank gets the points win 60-54 and improves to 4 wins (2 by KO) while Matthews drops to 12 wins (2 by KO) 6 losses and 1 draw.
Phill Fury (Lancaster) v Lee Noble (Barnsley)
6 x 3 Light Middleweight Contest
Fury had a difficult time against tricky Ingle Boxer Noble and couldn't get away from his head shots. He never really settled in to the fight and Noble gets the deserved points win 59-56.
Noble improves to 14 wins (3 by KO) 22 losses (2 by KO) and 3 draws, while Fury drops to 10 wins (2 by KO) 3 losses.
Kash Ali (Rotherham) v Remigijus Ziausys (Lithuania)
4 x 3 Heavyweight Contest
Ali faced late opponent Ziausys for this – his second pro-outing. Looming over his Lithuanian opponent – Ali thumped in some hefty body shots and it seemed it might be a quick finish, but durable Ziausys took the blows and stuck it out to the final bell giving Ali his second win on points 40-36.
Ziausys drops to 21 wins (10 by KO) 50 losses (1 by KO) and 3 draws.
Callum Hancock (Sheffield) v Dan Blackwell (Trowbridge)
4 x 3 Middleweight Contest
Debutant Hancock had a steady contest till Blackwell discovered he could land a decent right. Hancock was wobbled but came back himself to pressure Blackwell.
Hancock gets off the mark with a points win 39-37.
Blackwells record now stands at 1 win 8 losses.
Tom McAssey (Sheffield) v Rick Boulter (Lincoln)
4 x 3 Middleweight Contest
A messy contest for this debutant against awkward Boulter, but he gets his first pro-win on points 40-36.
Boulter drops to 1 win 21 losses (2 by KO) and 3 draws.
Sam O'Maison (Sheffield) v Kristian Laight (Nuneaton)
4 x 3 Light-Welterweight Contest
Debutant O'Maison gets his first pro-win on points (40-36) against experienced Laight.
Laight's record stands at 6 wins 121 losses (4 by KO) and 6 draws.
Leo D'Erlanger (Banbury) v Dan Carr (Trowbridge)
4 x 2 Super-Featherweight Contest
A closely fought contest sees Leo 'The Lion' secure a points win 39-38.
Carr's record drops to 2 wins (1 by KO) 24 losses (1 by KO) and 2 draws.
Justin Newell (Leeds) v Johnny Greaves (East Ham)
4 x 3 Light Welterweight Contest
Newell wins on points (40-36) against entertaining Greaves.
Newell improves to 3 wins no losses while Greaves drops to 3 wins (1 by KO) 80 losses (10 by KO).
Click to read more boxing articles by Jane Warburton
Discuss in Boxing Forum
---