By Jane Warburton October 9th, 2012 All Ringside Boxing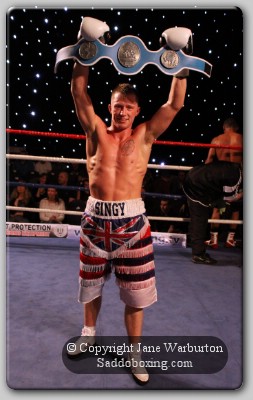 Click the above Image for more Photos from this Event
VIP Promotions hosted another entertaining afternoon of boxing yesterday afternoon at Devere Whites, Reebok Stadium, Bolton.
Billed as 'Fighting for their First Titles!' popular Shayne Singleton of Colne outpointed Santos Medrano of Spain to take the Light-Welterweight International Masters Title, while Luke Blackledge won the British Masters Light-Heavyweight Title by outpointing Carl Wild of Sheffield.
Shayne Singleton (Colne) v Santos Medrano (Spain, via Nicaragua)
International Masters Light-Welterweight Title
10 x 3 Rounds
Amidst the usual rowdy and enthusiastic support from 'Singy's' army of fans – the Colne man got off to a cautious start against Medrano – who came out looking like he 'meant business'! Throwing loose shots that found Singleton's face – Medrano looked more relaxed although Singleton was the busier.
Singleton is urged by his corner to keep up the jab and he obliges by 'upping the pressure' in round three but still looks a little tense compared to his opponent. He starts to settle in around the fourth and fifth rounds and has Medrano fazed by a shot in the fifth which sees Singleton 'go after him'.
Medrano is on unsteady legs in the tenth and final round and is forced to 'hold on' till the bell.
Singleton gets the points win 100-91 to take the Title.
Luke Blackledge (Accrington, Lancs) v Carl Wild (Sheffield)
Vacant British Masters Light-Heavyweight Title
10 x 3 Rounds
A cautious start but there's more action from Blackledge. It's a better round two as Wild picks up the pace.
Blackledge is warned a second time for use of the head in round seven and warned of a point deduction if it continued by Referee Phill Edwards.
Wild clearly felt a couple of shots in the eighth round and finishes the frame with a swollen left eye.
An untidy fight but Blackledge uses a variety of shots to produce the better work.
Blackledge gets the points win 99-93 to take the Title.
Undercard results :
Ricky Skelton (Penrith) v Andy Hardy (Newstead, Nottingham)
4 x 3 Welterweight Contest
Skelton sustains a cut on the right cheek in the second round and Hardy is down twice in the first three rounds but is not counted. The Newtsead man does get counted in the fourth frame and Skelton notches up his second win on points 40-35.
Chris Jenkinson (Bolton) v Matthew Ashmole (Swansea)
4 x 3 Light-Middleweight Contest
'Twinny' Jenkinson gets back to winning ways with a points win over Ashmole 40-36.
Ashmole was wobbled in round one and Jenkinson 'goes after him' pressuring the Swansea man back on the ropes. There's a clash of heads in the second frame and Ashmole 'takes a break' while Twinny waits in the neutral corner – blood trickling down from a cut high on the forehead.
Fighting resumes and Jenkinson gets the win.
Dean Halsall (Preston) v Jody Meikle (Scunthorpe)
4 x 3 Super-Middleweight Contest
A frustrating four rounds for 'Deano' as he faced 'comic' Jody Meikle. Meikle kept the crowds entertained with his continuous show-boating and chat – much to the frustration of Halsal (and Referee Phil Edwards who warned the Scunthorpe man about his colourful language and urged him to 'get on with it' on more than one occasion!)
Halsal gets the points win 40-36
Daniel Watson (Bolton) v Vaclav Skromtach (Newark)
4 x 3 Welterweight Contest
Debutant - Danny 'The Phantom' looked flashy against tentative Czech-born Skromtach. The confident Bolton man was too quick for Skromtach and gets his first pro-win on points 40-36.
Tomi Tatham (Bentham) v Nick Gigg (Bristol)
4 x 3 Light Heavyweight Contest
Debutant Tatham gets off to an impressive start with a second round TKO over Gigg. The Bentham man found success with decent body-shots in the opener and when he subjected Gigg to a number of headshots Referee Alvin Finch jumped in to stop the contest.
Rick Godding (Bolton) v Costas Osben (Rainham)
6 x 3 Light-Middleweight Contest
Godding gets the points win 60-55
Click to read more boxing articles by Jane Warburton
Discuss in Boxing Forum
---