Promoter Chris Sanigar held a press conference in Bristol, England, yesterday heralding the eagerly awaited return of exciting hometown man, Commonwealth Flyweight Champion Lee Haskins. The lightning fast southpaw will be defending his Commonwealth belt for the first time since winning it in February and will


Click for larger image
© Alex Strutt
Saddo Boxing




---
face former IBO Champion Zolile Mbityi at the Whitchurch Sports Centre, Bristol, Friday 7 April, televised live on Sky Sports.
There was a calm mood in the press conference area as the boxers and managers entered the room and sat down to discuss the upcoming defence of Haskins' title. As always, Lee Haskins looked calm and confident, and every now and again letting off a cheeky smile. His opponent looked calm and gazed into the press as if they were not even there. Promoter Chris Sanigar announced the fight to be the first defence of Haskins' title with delight of an exciting show.
Chris politely introduced the opponent, Zolile Mbityi, and trainer, Dowie Mzini, who had both ventured over from South Africa.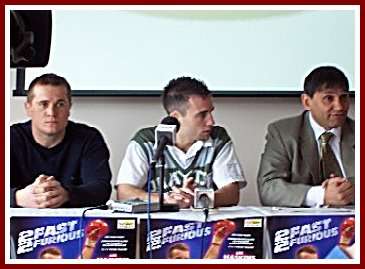 Press: Have you ever seen any tapes of Lee Haskins before?
Mbityi: "No. Haskins is a closed book as far as we are concerned, we have prepared for this fight like every other fight, we are very, very confident of victory."
Press: As you are now reaching 36 years of age, do you feel this is your last chance at glory as a champion?
Mbityi: "Yes, it is."
Press: How do you feel about this fight?
Mbityi: "I am not underestimating Lee Haskins, but I am also not going to show him respect in the ring. We have not seen him, he is a closed book, but we will come back with the title victorious."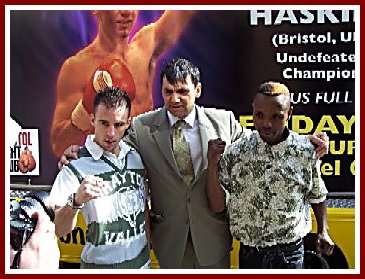 Next it was Lee Haskins' turn to meet the press.
Press: How has training gone in the run up to this fight?
Haskins: "Training has gone great, I have trained very hard for this fight. I am going to show how good I am in front of the Bristol crowd. I feel so strong with twice the power I had last time round."
Press: Do you feel there is any pressure on you?
Haskins: "I'm going to look good, I'm going to knock him out in four rounds, ha ha! But no there is no pressure."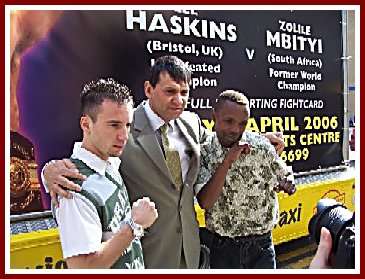 Chris Sanigar also announces light-heavyweight Leigh Allis, who is almost on the verge of becoming the contender for the British Light Heavyweight title if he can make it through his challenge of English Champion Peter Haymer, of London, on the undercard of Friday's main event
Press: How's the training been going?
Allis: "It's been a hard training camp I have been training with a special forces unit in Bristol on an assault course, which was tough but I am feeling so strong."
Press: Do you think the crowd will play a large part in your bout on Friday?
Allis: "It can play a large part, if I start landing the big punches the crowd start to get behind me I will rise to the occasion. I have had off nights but I am going to make Friday the night I'm on song, trust me, ha ha."
A special thanks to Sanigar Promotions for making the SaddoBoxing team welcome