By Jane Warburton April 17th, 2011 All Ringside Boxing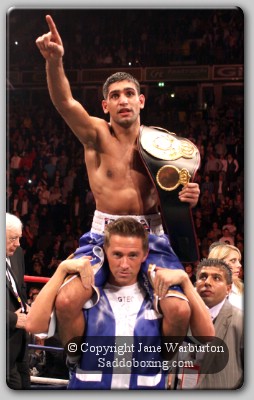 At the MEN Arena, Manchester, Saturday night - Amir Khan retained his WBA Light Welterweight Title by a Technical Unanimous Decision after Challenger - Paul McCloskey was (controversially) stopped with a cut to the left eyebrow.
It was a fantastic atmosphere inside the MEN Arena as the 18,000 fans eagerly awaited the main event.
Legendary Michael Buffer announced the boxers and as fighting got under way, little did we know that the fight would be remembered – not for the performance of either man or the excitement of a thrilling fight – but for the angry scenes following a premature end.
Khan came out fast and busy as round one began, while calm McCloskey – with gloves dropped low – kept centre of ring. Khan whipped out the long-reaching lefts and rights with lightening speed but McCloskey looks unfazed as he fends off the Champion. 'Dudey' lands a decent swinging right hook mid-way through the second round but is less busy than 'King' Khan – seemingly 'waiting'.
Mid-way through the third McCloskey gets in with a right, but continues to 'wait' while Khan has moments of frenzied cluster punches (a bit cat-like I thought!)
Just before the closing bell of the third frame, Referee Luis Pabon calls both men together after Khan hits 'back of head'. Luis Pabon though would be far more notable for other reasons tonight! More...