**With Slideshow**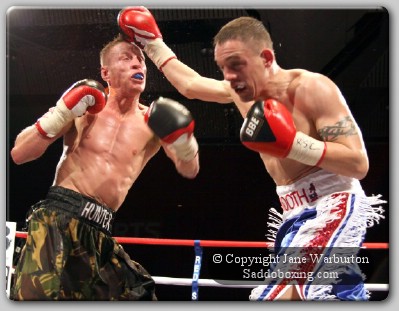 © Jane Warburton / Saddo Boxing
British super bantamweight champion Jason Booth put together yet another sterling performance in turning back the comeback hopes of Michael Hunter last night at the Seaburn Centre in Sunderland, England on a Frank Maloney promotion.
31 year old southpaw Hunter was attempting to recapture the glory days of 2004-2006, over which he held the British, Commonwealth and European titles before losing a vacant IBF title bid to sharp Canadian Steve Molitor.
The Hartlepool man started strong once the bell rang, pressuring Nottingham based Booth, also 31, with a high work rate and had some success when the champion was put upon the ropes.
But Booth had much better footwork, reaction timing and handspeed. These advantages began to result in short shots on the inside that snapped the aggressive Hunter's head back.
By the second, Booth was beginning to get the measure of the much taller former triple champion, mixing in hard lead rights and left hooks as Hunter put his all into every shot but landing very few flush.
The third saw Hunter, who made the super bantam limit for the first time in three years and reportedly had difficulty making the weight, begin to flag.
Booth began to rattle off successful combinations as Hunter increasingly missed his evasive, ever-bobbing adversary. While Hunter did get in the odd shot here and there, Booth was beginning to weave a masterpiece.
The fourth saw Booth go on the offensive and push Hunter back, mixing in searing body shots to an already overwhelming attack of leather that came from all angles and directions.
Hunter was hurt at the midway point but somehow managed to tough it out until round's end as Booth tried to finish matters. The north east man was given one more round by his corner and came out for the fifth.
The challenger made a last ditch effort to drag Booth into a slugfest but didn't have the stamina to take advantage of the champion's own depleted energy levels.
As Hunter desperately tried to stem the tide, Booth picked his shots and landed heavy artillery upstairs and down that shook Hunter to his boots but still he kept on his feet.
Before the start of the sixth frame, Hunter's corner withdrew their man from further punishment.
Jason Booth improved to 34-5 (14), winning his seventh in a row and second consecutive British super bantam title defense.
Michael Hunter drops to 29-2-1 (13) as a three bout win streak comes to a close.
The undercard saw local light heavyweight and Olympic hero Tony Jeffries, 4-0 (3), go the distance for the first time in his career as he outpointed Belarus titlist Artem Solomoko, 10-18 (3), over six rounds on points, 60-54.
Another high profile 2008 Olympic success, heavyweight David Price, 2-0 (2), was on the bill, stopping Liridon Memishi, 0-1-1 (0), in the second stanza.
Domestic super feather contender Gary Sykes, 13-0 (4), got in a good eight rounds at lightweight against granite-jawed Ibrar Riyaz, 3-8-1 (1), winning by a 79-74 margin.
Highly touted super middle prospect George Groves, 6-0 (5), looked sharp in stopping Tadas Jonkus, 4-5 (3), in the fourth of a scheduled six.
Lightweights Paul Holborn, 11-2-2 (0), and Ben Murphy, 6-2-1 (3), fought to a six round draw.
Winning their contests on the bill were heavyweight Dave Ferguson, cruiserweight Jon-Lewis Dickinson and his brother, light heavyweight Travis Dickinson, welter Chris Mullen, light welter George Watson and super feather Kirk Goodings, who made his professional debut.