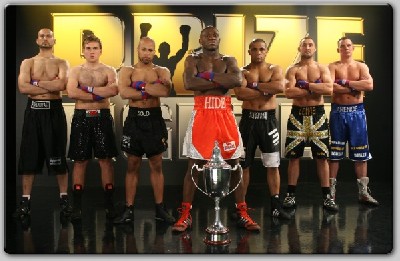 © Lawrence Lustig
Tonight, at the York Hall in Bethnal Green, London, England, former two-time WBO heavyweight champion and current WBC international cruiserweight champion Herbie Hide enters as the bookie's favourite into Prizefighter: The Cruiserweights II.
Hide is 48-4 with 43 of those wins coming inside the distance and 26 of those stoppages not going past the second round. He is currently plying his trade at cruiserweight in Germany, the last time he fought on British soil was back in late 2008.
His first bout of the night will be against Wayne Brooks who is 5-2-2 with 2 KO's. On paper, this should be a walk in the park for Hide, in fact if it was not for Prizefighter this fight would never have been made in the first place. Brooks's biggest achievement of his career has been that he fought for the Welsh area light heavy title, and lost in a close fight.
That is the beauty of Prizefighter; what at first may seem like a mismatch often ends up being an upset. Who would have expected Danny Williams to have been blown away by Carl Baker in the Heavyweight Prizefighter last year?
Of course, that was the same Prizefighter that Audley Harrison, a fighter many considered down, out and almost finished, dominated and won, stopping two of his three opponents of the night. In Prizefighter anything can happen.
Hide must be looking at this tournament the same way Harrison looked at it last year. A pathway to bigger and better things, bigger fights better pay days. Unfortunately, it is not an easy path as all of the younger, hungrier and sometimes talented fledglings, that have not yet achieved what they might, look at the tournament exactly the same way.
Harrison has seemed to jumpstart his career with his Prizefighter win, with a redemption fight and KO in the 12th against Michael Sprott, who stopped Harrison in the third the last time they met. He has, for now anyway, gone back to La La Land where he is calling out the Klitschko brothers and David Haye.
Hide is currently ranked at No.3 in the WBC cruiserweight rankings, and so the tournament maybe perceived as a bit of a risk on Hide's part.
But he is merely dismissing these fights as a tune up for his next world title bid. One might say risky, he says he is a gladiator and believes he is the best cruiserweight in the world….well he is starting to sound a bit like Audley Harrison already!
Hide has mixed it with some very talented guys in the past, although the only outstanding names on his resume are Riddick Bowe and Vitali Klitschko, to which he lost both by KO.
Still with all those fights comes something that is invaluable, experience. He has plenty of experience, which sometimes makes the difference. Although I do not know if the pace will suit him as these guys are younger, some by a little, some by a lot, Hide is 38.
Not all of the other competitors are new kids on the block though, Darren Corbett the former Commonwealth Champion who has moderate power, is slightly younger but still experienced.
And Mark Krence, who once fought for the British heavyweight title, doesn't have a great deal of power but again he has experience, never mind the fact that for any of these fighters, Herbie Hide's scalp is a good one to add to their record. Therefore, it is safe to assume that all will be gunning for it.
Hide will be seen as a target to some, past his prime and trying to grasp at former glory, but on the flipside he could be a relatively scary prospect.
We all know he can box and move, and although he has been knocked out before, he does has a relatively good chin, but most importantly, he can bang…he can really bang!
In fact, he has only been the distance twice. He does suffer from a somewhat lacklustre defence, which literally is step back and counter or clinch. I am sure some of the younger guys are going to try to capitalise on that.
On paper, Hide stands out here as the best, and should easily overcome his opponents, which if he does, could take him to wherever it is he wants to go.
But bearing in mind he is 38, and not a fresh 38, as he has had tear ups in the past, the other fighters are going to want the glory just as much if not more than Hide.
I feel Hide is going to have to weather some storms tonight, but then so is everyone else; it's Prizefighter, it's unpredictable.
Hide has the tools and the know how, but as history has shown us sometimes it only takes someone with more desire and more hunger to upset the apple cart.
See Martin Rogan for proof of that.