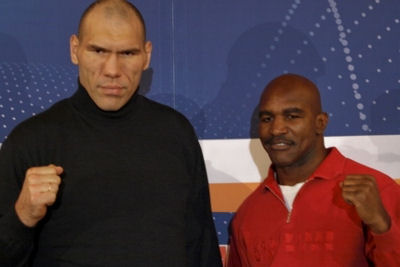 © SE
On December 20, 2008, Evander Holyfield made an attempt at becoming the only man to ever hold a portion of boxing's most coveted prize for the fifth time, the heavyweight championship of the world.
So after all the critics blasted any chance he might have at success, Holyfield stepped into the ring against the 7 foot reigning WBA champion Nicolai Valuev and proceeded to prove his skeptics wrong by outboxing the champion.
But when the scores were read after the bout, only one reaction poured out from those in attendance; boos. Anyone and everyone that night in Hallenstadion, Zurich , Switzerland witnessing the bout all felt the same way: disgusted, everyone not in the camp of Valuev, that is.
This sport is used to controversial decisions, they take place all the time, but if not for these decisions, so many rematches may not take place. But there are limits to these things.
It is usually by split decision or with only one judge having the fight card way off base, but in the case of Holyfield vs. Valuev, not a single judge saw things Holyfield's favor. The most favorable was the 114-114 scorecard one judge had sent into the ring.
While the bout itself was far from exciting, it was a bout in which Holyfield had kept the reigning champion plodding around looking as if he had no idea where his punches should be thrown. When the champion did throw his jabs, many missed the target and lacked any sort of authority whatsoever.
Holyfield, who was no marksman himself by any means, dictated the pace of the bout by moving around on his toes, forcing Valuev to follow him, throwing his jab and making Valuev think twice before even attempting a jab in return.
In short, regardless of how the action played out, it was clear to everyone that Holyfield should have been a five time heavyweight champion of the world.
It was not more than 15 minutes later the press cried out against the scorecard injustice. What's more, it caused something that to this day I personally do not believe I have witnessed in boxing. There were fans worldwide lambasting the WBA and its control of their sanctioning body, calling them frauds that are in business for nothing else but collecting sanctioning fees!
We all know fans will express their displeasure; it is their right, after all, they are the ones who pay the prices of admission and buy the PPV showings that allow boxing to function. But, this time it was different, this time they would not allow this to idly stand by. No, this time fans would take matters into their own hands.
It was within 24 hours that the internet boxing website forums were buzzing on what could be done; how could this injustice be reversed? They pleaded with each other to contact the WBA through their website and demand a review, to insist something happen!
Except a harsh reality began to sink in and that reality was that this is boxing and there are no reviews unless there is some sort of in-ring antic by a fighter that garnered punishment. The judges had the last word and their scorecards are law!.
But one fan refused to accept that as an answer. He would not become discouraged with the painfully obvious. No, he would have his say one way or another, even if it was his last act as a boxing fan.
Christopher James posted petitions for his online friends to sign. He gathered up the replies from his fellow pugilistic enthusiasts and sent them to the WBA along with their opinions of displeasure, demanding a review of the bout!
What will happen with the WBA and their review, we do not know yet; maybe something, maybe nothing? Who actually won the fight between Evander Holyfield and Nicolai Valuev? In truth, I have my opinion but that is not the point here so I will keep my opinion to myself. The point to this article is a message has been sent out, not only to just the WBA, but to all the sanctioning organizations.
That message is: either make sure your judges are doing their job in the most professional and unbiased manner or you will have to answer for it. Those answers will not be given to a state athletic commission; it will not be given to a governing body and it will not be something that can be danced around in the media through back peddling replies.
Those answers will have to be given to the fans, the people that pay to see these fights, the ones that pour out their hard earned dollars for PPV's events, the ones, that if they should become overly dissatisfied, have the power to spend their money elsewhere.
This may be the one and only time an organization gives in to fan and media pressure. It may be the start of something positive, but I am not going to speculate either way.
Right now, I am just going to rise up, give my applause to not only the WBA for taking initiative in the matter and answer the cries of those who follow our sport, but to those fans who took their time to make sure their voices were heard.
The loudest applause will go to Christopher James wherever he might be, for reminding everyone that sometimes you have to do a little more then just shake your head with disappointment.