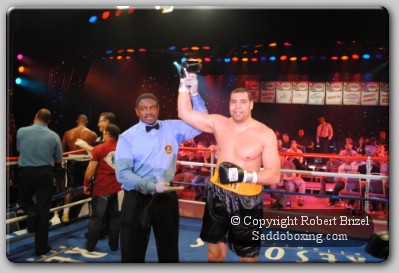 In the preliminary bout to the Patrick Hyland-Emmanuel Lucero main event of a seven bout card at Resorts Casino in Atlantic City, New Jersey, promoted by Team Snooki Boxing in a cooperative venture with Final Round Promotions, heavyweight contender Derric Rossy of Medford, New York, won his first bout in nearly two years with an eight round unanimous decision over southpaw local Atlantic City heavyweight Livin Castillo, formerly of Ecuador.
Rossy, now 26-5, 14 kayos, was stopped last July in the same ring at 1:35 of the twelfth round in a USBA title bout against Maurice Harris, which had been close till it ended.
The bout with Castillo was no different. Castillo, now 16-11, 10 kayos, was coming off a loss in a WBC Latino cruiserweight title bout with Yunier Dorticos in Miami last November, and came back up in weight from 199.5 to 216.5 to Rossy's 227. The bout was broadcast live over the internet on Behindthering.com as a pay-per-view event seen by millions in Ireland, fans of the three Irish Hyland brothers.
Rossy fought a cautious bout, and had to be constantly urged by his corner to keep turning (moving side to side) and not stand in front of Castillo too long. Castillo, who came into the bout in shape, scored whenever Rossy did not move, which kept the bout relatively close.
Rossy fought slowly and patiently, picking his jab opportunities and landing them when he found them, and fending off Castillo's counter attempts. Castillo attempted to lure Rossy into traps along the ropes, but Rossy stayed in ring center during the bout, avoiding Castillo's lures.
"I was getting rid of the ring rust, no excuses, you just have to keep moving with an awkward fighter like Castillo," explained Rossy. "Sometimes I thought he was playing possum, so you keep moving with a fighter like that, to keep him off balance,"
Result: Derric Rossy Win 8 Livin Castillo, Heavyweights
Scoring: 77-74, 77-74, 77-74 Rossy (first win for Rossy since March 2010)
In the fifth bout of the seventh bout card, Irishman Paul Hyland of Dublin, Ireland (a brother of Patrick Hyland) won a six round unanimous decision over dirty Arturo Santiago of Mayaguez, Puerto Rico in a super featherweight contest.
Santiago's repeated dirty tactics of hitting behind the head mixed with some low blows caused heartaches for a most tolerant referee Sammy Viruet. Indeed, Santiago, who otherwise gave a good accounting of himself, might have earned a draw if he had fought cleanly. Santiago is far better than his 7-5-1 record with 4 kayos indicates.
Paul Hyland, now 21-2 with 8 kayos, fought a scientific type fight moving side to side not offering a target, working his jabs while Santiago came forward and pursued. Santiago preferred to work on the inside and then clinch, and had a relatively good defense. Santiago's dirty tactics merited point deductions and perhaps a disqualification, costing him the one round needed for a majority draw.
Result: Irish Paul Hyland Win 6 Arturo Santiago, Super Featherweights
Scoring: 58-56, 58-56, 59-55 Hyland (scoring generous-Santiago fouling throughout)
In a minor upset in a strange prelim junior middleweight bout, veteran Franklin Gonzalez won a unanimous decision over Irishman Eddie Hyland in a four rounder.
Gonzalez, now 15-9, 10 kayos, a southpaw from the Dominican Republic, had fought the likes of Luis Collazo, David Estrada, Dmitry Salita, Antwone Smith and Danny O'Connor, actually outboxing David Estrada for the first four rounds of their 2010 bout.
Gonzalez was listed at a weight of 149 but appeared less. Eddie Hyland, a 2009 IBF International Super Featherweight champion, now 16-2, 6 kayos, came in at 157.8 but appeared at least 30 pounds over his normal fight weight! Eddie tried, but was unable to ride the coattails of the main event with insufficient preparation.
Eddie Hyland appeared tough as nails, with a big heart, and perhaps could have won this decision. But Gonzalez was in shape and Eddie Hyland was not, and every time Eddie taunted Gonzalez to hit him Gonzalez did. The suggestion among the press is Eddie Hyland would be better off going back to Super Featherweight.
Result: Franklin Gonzalez Win 4 Irish Eddie Hyland, Super Featherweights
Scoring: 39-36, 39-36, 40-37 Gonzalez (Eddie Hyland fought 30 pounds overweight)
Other Preliminary Bouts
Chazz McDowell Win 4 Phil Nazario, Junior Lightweights
Scoring: 40-36, 40-36, 40-36 McDowell, now 4-0. Nazario cut on left side of forehead.
John Thompson Win 4 Andre Espeut, Super Middleweights
Scoring: 40-36, 40-35, 40-33 Thompson, now 4-0. Bloody nose Espeut just surviving.
Moses Molina (debut) Win TKO 1 (1:33) Desi Williams, Junior Lightweights
Molina is managed by middleweight prospect Thomas 'Cornflake' LaManna.